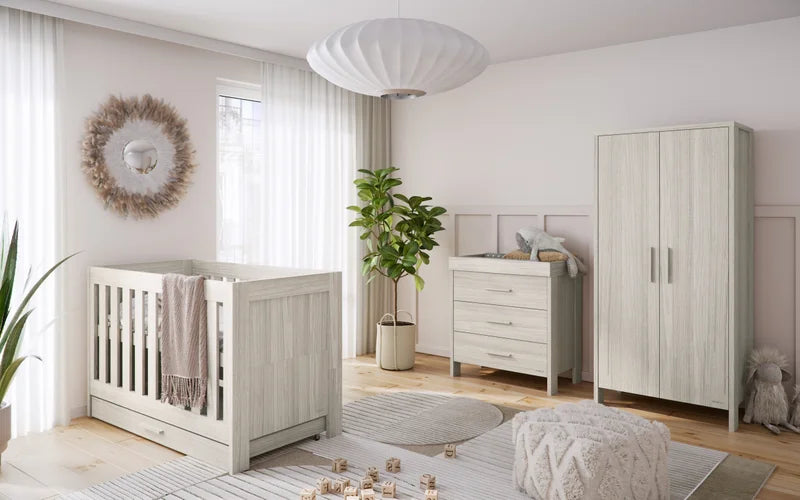 **CHRISTMAS OFFER** Venicci Forenzo 3 Piece Set Nordic White
In stock
Pickup available at Unit 10-12 Baby and Childrens Outlet
Usually ready in 24 hours
**CHRISTMAS OFFER** Venicci Forenzo 3 Piece Set Nordic White
Unit 10-12 Baby and Childrens Outlet
Pickup available, usually ready in 24 hours
Unit 10-12 Baby and Childrens Outlet
Junction 32 Castleford Outlet
Castleford WF10 4FR
United Kingdom
07706777067
Venicci Forenzo Nursery Room Set – Nordic White
Includes:
Cot bed
Dresser/Changing Unit
Double Wardrobe
Mattress
The beautiful Forenzo collection is a reaction to parents' needs and their little ones too. This cot bed is characterized by an attractive reproduction of the structures and colours of wood, thanks to which it brings peace and a cozy atmosphere to the room.
The Venicci team consists not only of designers, but also parents, so we know how important it is to use the space optimally. In this collection, the cot bed has an additional drawer, thanks to which we gain extra space for storing things.
We have created furniture that grows with the child, but in order to serve for many years, we have devoted a lot of attention to durability. High-quality materials used in the production, guarantee the stability and smooth operation of doors and drawers.
Sleeping is the basis for your baby's healthy development. That is why our furniture complies with the highest standards. The materials used in production do not cause allergies and are easy to clean, making them a good choice in the rooms of small allergy sufferers.
When the baby's crib is too small for him, you can easily turn it into a great-looking toddler bed. What's more, the roomy drawer provides additional storage space. The ability to vary the height of the base on three levels is a smart way to adjust it to suit your child's needs. It is also a useful solution for maintaining a healthy spine and not putting strain on it when bending down to your baby.
Cot Bed
Features
Adjustable base height
3 different height settings to match each stage of baby's development
Grows with the child
It can be converted into a toddler bed which can used up to 4 years of age
Highest quality workmanship
Fittings and boards used are durable and can serve for years
Additional protection against mechanical damage
Additional drawer
Gain extra room for storage
Cot bed – H93cm x L147cm x W75cm


Chest Of Drawers
The Forenzo chest of drawers has a removable changing table, which is an essential equipment for new parents. Ergonomics was also considered here - placing the changing table in this place is the optimal height for parents. What is more important, it is removable. The drawers are deep and wide and slide quietly and easily on metal guides.
Features
Comfortable, removable changing table Perfect place to change your baby
No small parts  Your curious baby will not have any small parts at hand
Deep, capacious drawers Perfect to fit all baby clothes and accessories
Reinforced protection against UV radiations Furniture will look great for a long time
H: 85cm x W: 82.5cm x D: 50cm
Wardrobe
A well-thought-out design perfect for clothes and accessories for babies and older children. Inside you will find two shelves and two hanging rails that will allow you to optimally arrange the space. The wardrobe is easy to clean and resistant to scratches and moisture. The handles and legs are kept in the same colours, thanks to which we have obtained an attractive, mono-coloured set.
Features
Two shelves and two metal bars inside - Guarantee of the perfect use of space 
Easy to clean - With only few hand movements, you can remove any dirt from the surface 
Compact - Perfect for smaller size rooms
Lift obtained by legs - Makes it easier to clean hard-to-reach places.
Please note, if part of the set or if selected, the mattress and accessories are dispatched from a different warehouse so may be delivered separately.
Delivery date booked with yourself in advance. Delivery to room of choice. Please allow 7-10 days delivery 
We deliver to ALL postal areas in the UK; England, Wales, Scotland and Northern Ireland. Please find a list of All Locations we ship to:
UK Mainland 
Scottish Highlands 
Scottish Islands
Scilly Islands 
Isle of Man 
Isle of White 
Northern Ireland 
Please note if an order has different delivery timescales, the fulfillment time for the order will be the oldest timescale.All orders are consolidated into 1 consignment. The customer may however request for the In Stock items to be sent, by paying a delivery charge to split the delivery.

Below shipping times only apply to items dispatched from Precious Little One and exclude our partners delivery timescales. (Exclude Direct Deliveries)

UK Mainland 3-5 days 
FREE Delivery on all orders over £50
If order is Under £50, a delivery charge of £3.75 will be applied
Saturday Service is available for £30.00 (If ordered before 2pm on Friday)
Next day delivery service available on request ( £5.95 )
Scottish Highlands (Next Working Day or 3 Days)
£19.95 Delivery Charge regardless of order value
Scottish Islands (4 Days)
£19.95 Delivery Charge regardless of order value
Northern Ireland (4 Days)
£24.95 Delivery Charge regardless of order value
5-10 Days Delivery - These products are usually IN and OUT of stock, they have usually been reserved in our supplier's warehouse. As soon as your order comes through, a request is made for the order to come to us. Once the Order has arrived it will be dispatched to you on a NEXT Day service. Depending on the brand the lead time could vary from 3, 5 , 7, or 10 Days.
Pre Order - Item is available to purchase from Precious Little One and will be dispatched at a later date. Stock has been reserved, the purchase order has been made. The item is due in stock when stated and will be dispatched as soon as it arrives into our warehouse.
All deliveries will receive an update from our warehouse followed by tracking information provided by either ourselves or, if on direct delivery, from our suppliers and their couriers.
Unfortunately, we do not ship outside the UK. 
If you have not received the entire order as expected, then please contact our customer services on 01977 515404 or send us an email via the contact us page.
Should you have any issues with your item(s) please report these either via the website or to our customer service team enquiries@precious-little-one.com
Please include an image or short video of the issue clearly showing the fault or damage along with confirmation of your order number, full name and delivery address.
Many of our suppliers will also need a batch number or item number so please check for these and include this when you send this through.
Once we have received all this information and a short description of the problem you are having, we will pass this onto our suppliers and raise this under your warranty. They will then advise us on the outcome/solution to the issues you are having.

FREE SHIPPING
Free worldwide shipping and returns - customs and duties taxes included
CUSTOMER SERVICE
We are available from monday to friday to answer your questions.
SECURE PAYMENT
Your payment information is processed securely.
CONTACT US
Need to contact us ? Submit a form at Contact Us