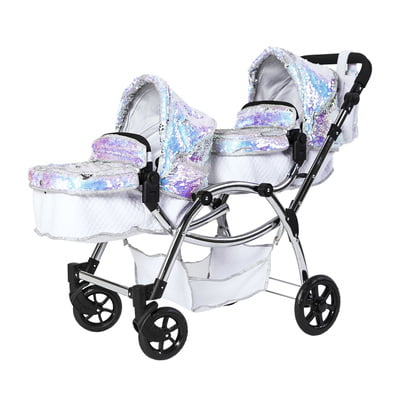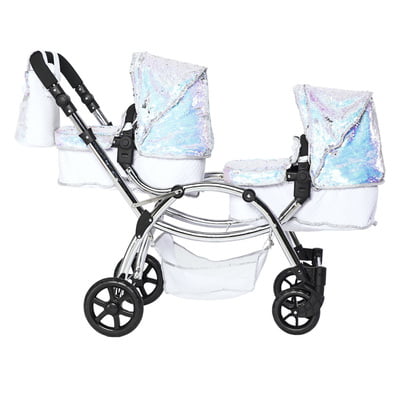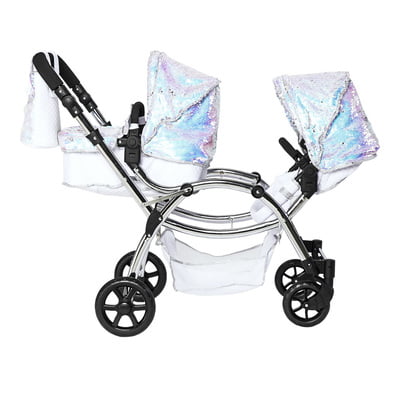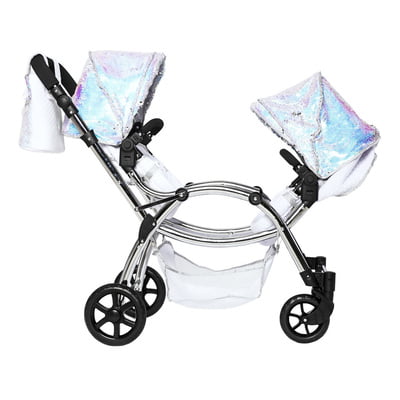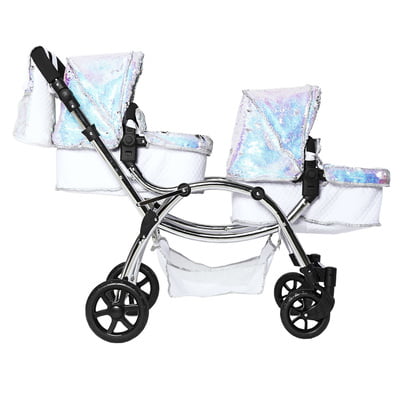 Roma Polly Amy Childs Twin Dolls Pram - Mermaid 3+ years 88cm
Re-stocking soon
Roma Polly Twin Dolls Pram 
- Mermaid. 
Designed by Amy Childs and Roma Prams the Polly Twin dolls pram is perfect for children of all ages with two dolls to play with. Pushing the pram is easy with front swivel wheels and a height adjustable handle up to 88cm.
This pram includes 2 carrycots that convert into seat units, and coordinating changing bag that attaches to the handle. Each seat can be fully reclined and reversed to face either direction. There are 16 configurations to choose from!
The height adjustable handle bar ensures the Polly Twin will be suitable for your child from 36 months to approximately 16 years! The handle height varies from 50 - 88cm and can be pushed comfortably by an adult. We recommend that you measure the height of your child for age suitability.
Optional Roma Polly accessories include; 2 Piece Bedding Set, Fur Hood Trim, Fitted Sheet, Mattress and Rain Cover

What's included in the package?
Polly Twin dolls pram
2 x 2-in-1 seat unit/carry cot

Coordinating changing bag
Removable carry cot aprons
Shopping basket

Let's take a look at the key features:
Adjustable handle height 50 - 88cm
Suitable for 36 months plus - please measure the handle height for your child.
Lightweight frame
Carry cot that converts to a seat unit with 1 strap

3 point adjustable harness
Dimensions:
Depth of cot 15cm
Length of pram 96cm - 112cm (dependant on seat positions)
Mattress size 44 x 25cm
We deliver to ALL postal areas in the UK; England, Wales, Scotland and Northern Ireland. Please find a list of All Locations we ship to:
UK Mainland 
Scottish Highlands 
Scottish Islands
Scilly Islands 
Isle of Man 
Isle of White 
Northern Ireland 
Please note if an order has different delivery timescales, the fulfillment time for the order will be the oldest timescale.All orders are consolidated into 1 consignment. The customer may however request for the In Stock items to be sent, by paying a delivery charge to split the delivery.

Below shipping times only apply to items dispatched from Precious Little One and exclude our partners delivery timescales. (Exclude Direct Deliveries)

UK Mainland 3-5 days 
FREE Delivery on all orders over £50
If order is Under £50, a delivery charge of £3.75 will be applied
Saturday Service is available for £30.00 (If ordered before 2pm on Friday)
Next day delivery service available on request ( £5.95 )
Scottish Highlands (Next Working Day or 3 Days)
£19.95 Delivery Charge regardless of order value
Scottish Islands (4 Days)
£19.95 Delivery Charge regardless of order value
Northern Ireland (4 Days)
£24.95 Delivery Charge regardless of order value
5-10 Days Delivery - These products are usually IN and OUT of stock, they have usually been reserved in our supplier's warehouse. As soon as your order comes through, a request is made for the order to come to us. Once the Order has arrived it will be dispatched to you on a NEXT Day service. Depending on the brand the lead time could vary from 3, 5 , 7, or 10 Days.
Pre Order - Item is available to purchase from Precious Little One and will be dispatched at a later date. Stock has been reserved, the purchase order has been made. The item is due in stock when stated and will be dispatched as soon as it arrives into our warehouse.
All deliveries will receive an update from our warehouse followed by tracking information provided by either ourselves or, if on direct delivery, from our suppliers and their couriers.
Unfortunately, we do not ship outside the UK. 
If you have not received the entire order as expected, then please contact our customer services on 01977 515404 or send us an email via the contact us page.
Should you have any issues with your item(s) please report these either via the website or to our customer service team enquiries@precious-little-one.com
Please include an image or short video of the issue clearly showing the fault or damage along with confirmation of your order number, full name and delivery address.
Many of our suppliers will also need a batch number or item number so please check for these and include this when you send this through.
Once we have received all this information and a short description of the problem you are having, we will pass this onto our suppliers and raise this under your warranty. They will then advise us on the outcome/solution to the issues you are having.

FREE SHIPPING
Free worldwide shipping and returns - customs and duties taxes included
CUSTOMER SERVICE
We are available from monday to friday to answer your questions.
SECURE PAYMENT
Your payment information is processed securely.
CONTACT US
Need to contact us ? Submit a form at Contact Us