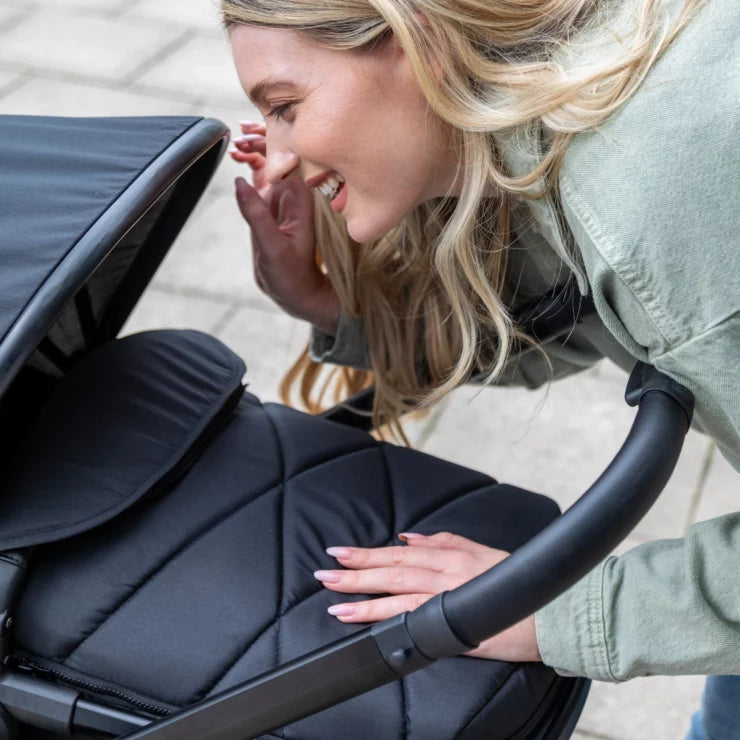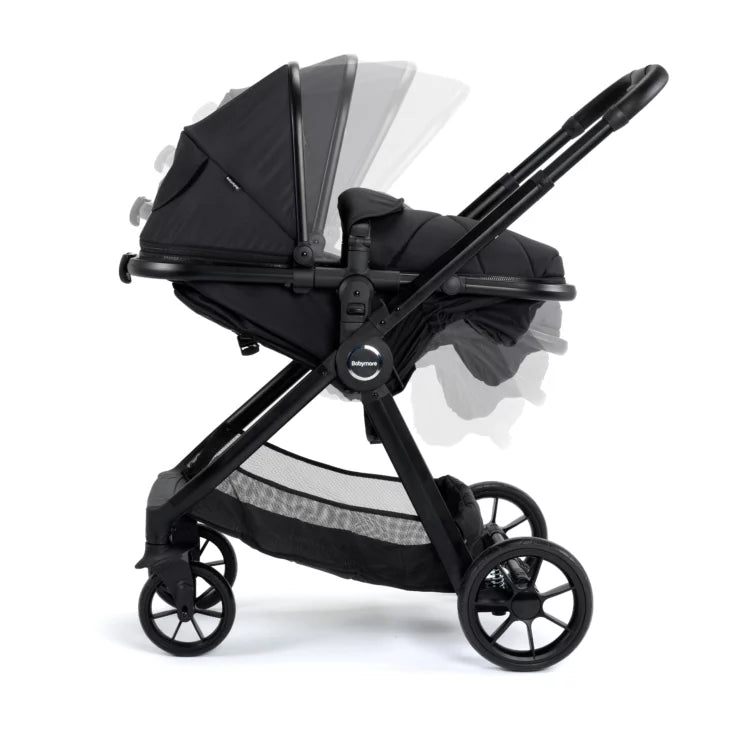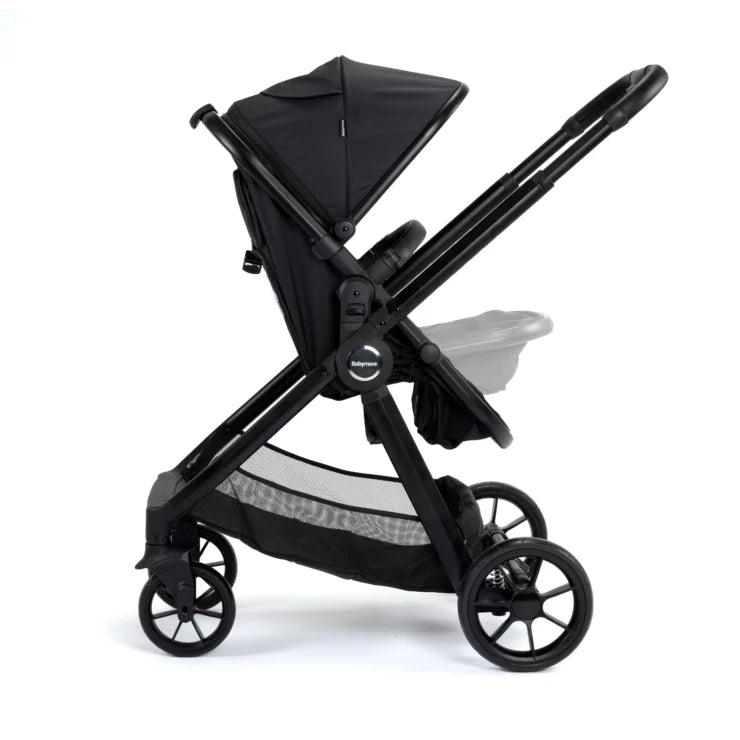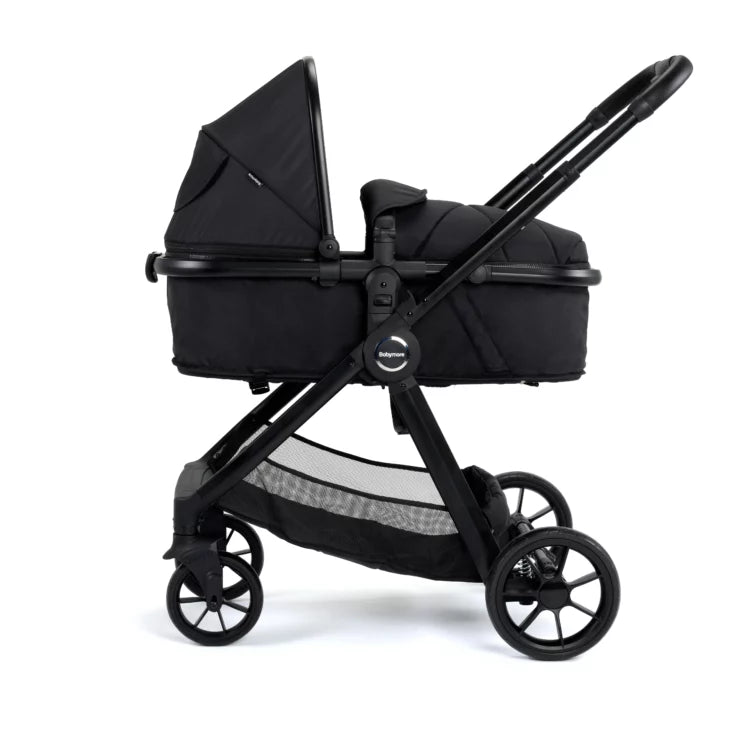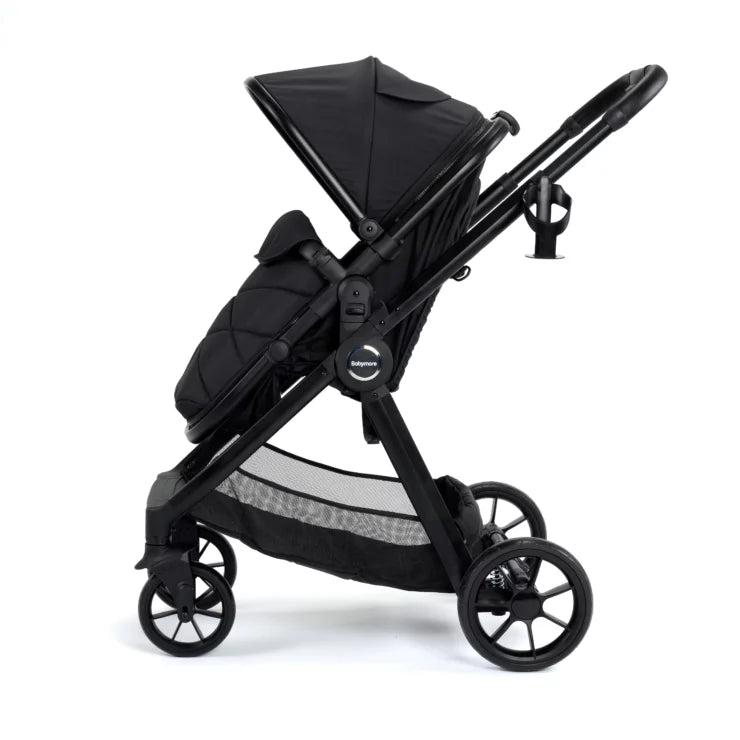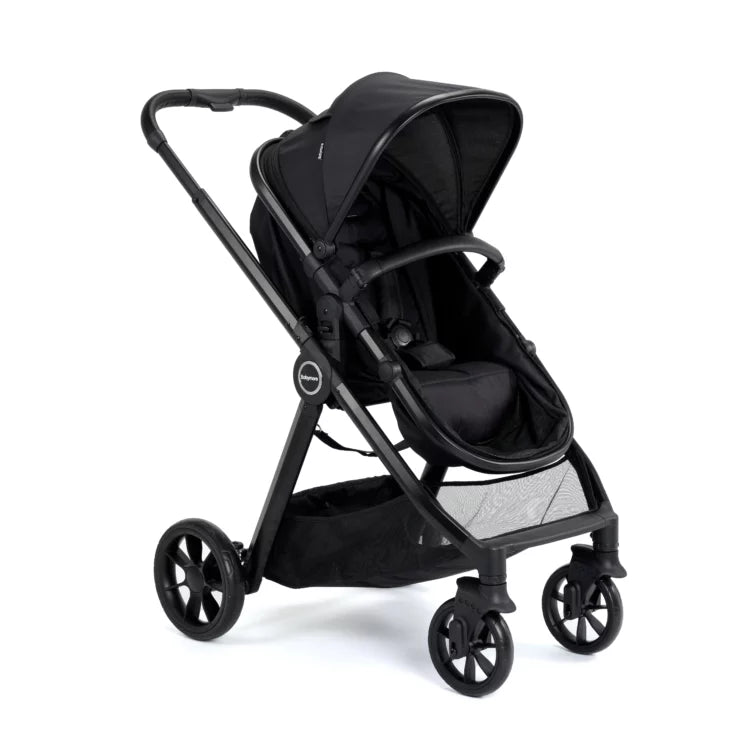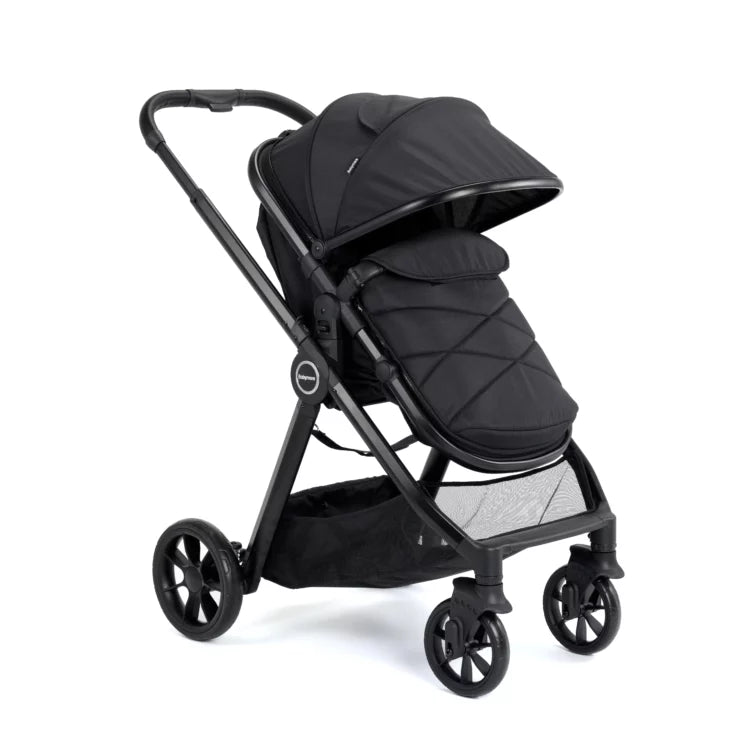 Mimi Travel System Coco with Base - Black
In stock
Introducing the super stylish Mimi travel system with i-Size car seat and Isofix base, a game-changer in the world of baby transportation. Suitable from birth to 22kg (approximately 4 years), this cutting-edge travel system combines the convenience of a versatile pram with the unmatched safety of an i-Size car seat and base, ensuring a seamless and secure experience for both parent and baby.
The Mimi boasts a thoughtfully designed pram mode, providing a cosy and comfortable space for your newborn to rest and explore the world. The spacious carrycot offers optimal support, while the adjustable canopy shields your baby from the elements. With a simple transformation, the pram effortlessly converts into a sleek and practical pushchair, accommodating your growing child's needs.
The enhanced suspension ensures a smooth ride whatever the terrain and the generous storage basket provides ample room for your essentials, ensuring everything is within reach. Apron, raincover and bottle holder are all included as standard.
We understand that convenience is key for parents on the move. That's why the Mimi is not only super lightweight but also offers a compact fold with an adjustable handlebar, making it easy to navigate through busy streets and store in tight spaces. The generous storage basket provides ample room for your essentials, ensuring everything you need is within reach.
The real star of this travel system is the Coco i-Size car seat. Engineered to the latest R129 safety standard, it offers advanced protection for your baby during car journeys. The i-Size standard ensures a precise fit by considering your child's height, providing optimal head and neck support. With features such as enhanced side-impact protection, a secure three-point harness, and energy-absorbing materials, this car seat guarantees maximum safety in the event of a collision. Suitable from birth to 40 – 87cm (approximately 15 months).
For an added degree of convenience, this Mimi Travel System also includes an ISOFIX base for an extra layer of convenience and safety. With its easy installation, you can quickly and securely attach the car seat to the base, eliminating the need for seat belts and ensuring a stable and correct fit every time.
With its sleek design and attention to detail, the Mimi Travel System with Pecan i-Size Car seat and Base sets the standard for style and functionality. Experience the confidence of knowing your little one is protected during every journey, from walks in the park to road trips. Embrace the perfect blend of innovation and style with the Mimi travel system and make unforgettable memories with your little one by your side.
EN1888:2022 – Pushchair and Pram – UK and European Standard
ECE R129 – iSize Car seat – EU safety regulation for child car seats
Specifications
Chassis with wheels Weight: 7 kg
Unfolded: W59cm x L80cm x H100-109cm
Folded: W59cm x L69cm x H35cm
Rear wheel diameter: 27 cm
Front wheel diameter: 19 cm
Seat Weight: 4kg
Seat area: W34cm x D24cm
Seat unit suitable from 6 months to 22kg (approx. 4 years old)
Carrycot suitable from birth to 6 months or 9kg
Car seat suitable from 40-87cm (birth to approx. 15 months)
Car Seat: L 71 x W 33 x H 44cm, Weight: 4.8 kg
Isofix Base: L 55 x W 35 x 18 cm, Weight: 4.1 kg
CHASSIS FEATURES
• Ultra lightweight aluminium frame
• Easy, intuitive fold
• Compact size and free-standing
• Easy to carry chassis strap
• Luxury leatherette handle
• Height adjustable handle
• Multi-terrain EVR puncture-proof air soft wheels
• All-around sprung suspension
• Quick release front and rear wheels
• Lockable front wheels
• Easy press foot brake
• Water and sand resistant brake
• 45 litre extra-large basket holds up to 10kg
CARRYCOT / SEAT FEATURES
• Ultra lightweight aluminium frame
• Seat suitable from 6 month to 4 years (max 22kgs)
• Spacious seat with 5-point fully adjustable harness
• Quick release buckle
• Padded shoulder and crotch straps
• Parent-facing and world-facing
• 4 position recline including lie flat
• Adjustable calf support – 5 positions
• Removable hood with ventilated parent window
• UPF50+ sun protection and water repellent
• Extendable hood for protection from sun and wind
• Luxury leatherette bumper bar
• Swivel detachable bumper bar
• Carrycot suitable from birth to 6 months (max 9 kgs)
• Spacious sleeping area
• Premium, breathable fabrics
FOOTMUFF FEATURES
• Premium, water repellent outer fabric
• Zips on/ Zips off
• Deluxe soft fleece inside
• Can fit over or under bumper bar
• Removeable, washable
RAINCOVER FEATURES
• Full protection from the elements
• Quick and easy fit onto seat and carrycot
• Ventilation on both sides
• Large front window for increased visibility and ventilation when out of the rain
• Window secures open with a button fastening
• Non-toxic EVA film
• Environmentally degradable
CAR SEAT ADAPTORS FEATURES
• Fits Pecan car seat to chassis
• Easily attaches car seat to chassis
• Compatible with Maxi Cosi Pebble Pro
CUP HOLDER FEATURES
• Clips on chassis
• Slip resistant
• Fits baby bottles and drink bottles
CAR SEAT FEATURES
• Ultra lightweight – 4 kgs
• Suitable from 40cm-87cm (birth to approx. 15 months)
• Rearward facing for greater safety
• Enhanced side impact protection
• Cover fully removable and washable
• Multi stage body hugg inlay
• 3 Point safety harness
ISOFIX BASE FEATURES
• Compatible with Pecan iSize car seat
• Auto lock car seat without belt
• One button seat release
• Compatible with almost all vehicles
• Connectors lock secure to vehicle
• Colour indicators confirm seat secure
• Secure installation with colour indicators
• Adjustable support leg
We deliver to ALL postal areas in the UK; England, Wales, Scotland and Northern Ireland. Please find a list of All Locations we ship to:
UK Mainland 
Scottish Highlands 
Scottish Islands
Scilly Islands 
Isle of Man 
Isle of White 
Northern Ireland 
Please note if an order has different delivery timescales, the fulfillment time for the order will be the oldest timescale.All orders are consolidated into 1 consignment. The customer may however request for the In Stock items to be sent, by paying a delivery charge to split the delivery.

Below shipping times only apply to items dispatched from Precious Little One and exclude our partners delivery timescales. (Exclude Direct Deliveries)

UK Mainland 3-5 days 
FREE Delivery on all orders over £50
If order is Under £50, a delivery charge of £3.75 will be applied
Saturday Service is available for £30.00 (If ordered before 2pm on Friday)
Next day delivery service available on request ( £5.95 )
Scottish Highlands (Next Working Day or 3 Days)
£19.95 Delivery Charge regardless of order value
Scottish Islands (4 Days)
£19.95 Delivery Charge regardless of order value
Northern Ireland (4 Days)
£24.95 Delivery Charge regardless of order value
5-10 Days Delivery - These products are usually IN and OUT of stock, they have usually been reserved in our supplier's warehouse. As soon as your order comes through, a request is made for the order to come to us. Once the Order has arrived it will be dispatched to you on a NEXT Day service. Depending on the brand the lead time could vary from 3, 5 , 7, or 10 Days.
Pre Order - Item is available to purchase from Precious Little One and will be dispatched at a later date. Stock has been reserved, the purchase order has been made. The item is due in stock when stated and will be dispatched as soon as it arrives into our warehouse.
All deliveries will receive an update from our warehouse followed by tracking information provided by either ourselves or, if on direct delivery, from our suppliers and their couriers.
Unfortunately, we do not ship outside the UK. 
If you have not received the entire order as expected, then please contact our customer services on 01977 515404 or send us an email via the contact us page.
Should you have any issues with your item(s) please report these either via the website or to our customer service team enquiries@precious-little-one.com
Please include an image or short video of the issue clearly showing the fault or damage along with confirmation of your order number, full name and delivery address.
Many of our suppliers will also need a batch number or item number so please check for these and include this when you send this through.
Once we have received all this information and a short description of the problem you are having, we will pass this onto our suppliers and raise this under your warranty. They will then advise us on the outcome/solution to the issues you are having.

FREE SHIPPING
Free worldwide shipping and returns - customs and duties taxes included
CUSTOMER SERVICE
We are available from monday to friday to answer your questions.
SECURE PAYMENT
Your payment information is processed securely.
CONTACT US
Need to contact us ? Submit a form at Contact Us