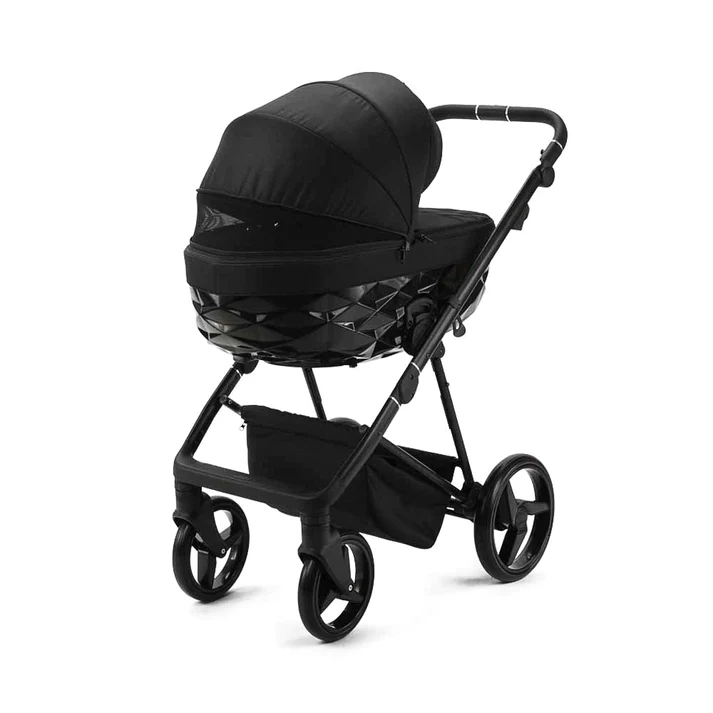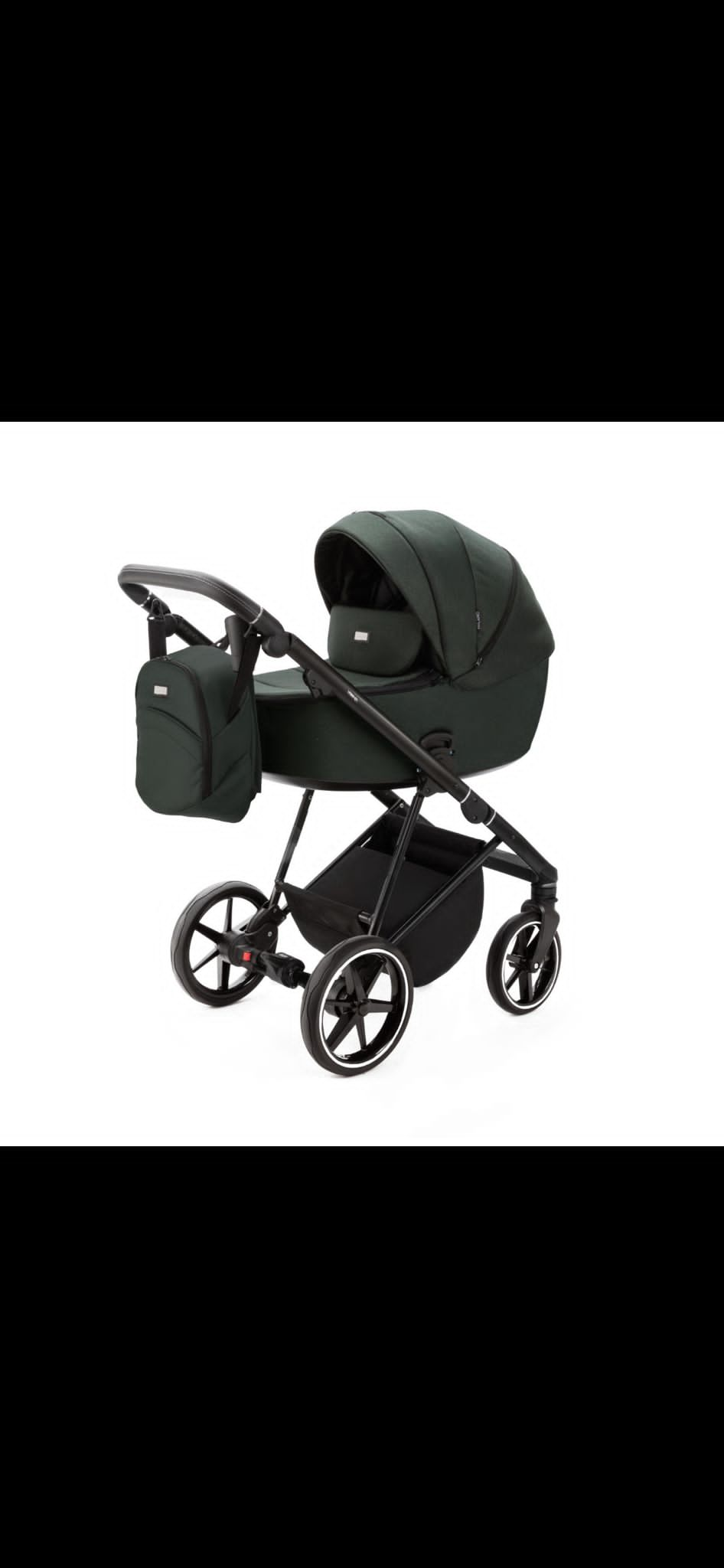 Milano Evo 2 in 1
Achieve every possibility with the Milano Evo collection. With its stylish and design-led aesthetics, the Milano Plus is now more functional and practical than ever! A comfortable, adaptive travel system that will grow with your baby, the Milano Evo will ensure travelling with a young family is stress free.
The Milano Evo is available in 8 stunning color ways and is available as a complete travel system package. The package includes an easy-fold chassis, large carrycot, stylish seat unit, protective car seat plus a whole host of matching accessories.
Carry Cot
The Carrycot apron has a transparent window under the wind deflector which is held in position by a magnet. You may also remove the wind deflector which allows you to maintain constant eye contact with your baby. To gain quick access to your baby, you can simply unzip and fold back the apron, without having to remove it entirely. There is a ventilation panel, revealed by extending the hood. The Milano Evo Carrycot is suitable for overnight sleeping .
Seat Unit
The newly designed seat unit is fully adjustable, has an extendable footrest, a comfortable apron and a five-point harness. The leather-trimmed bumper bar has a 'gate-opening' function and can also be removed. Also, you can extend the hood for extra coverage and to reveal a small ventilation window for additional airflow. Finally, the chassis can be folded together with the seat unit in both parent-facing, and world facing mode for easy transport.
Car Seat:
The Group 0+ Car Seat includes a newborn pack which keeps your baby comfortable and protected. You can remove this as your baby grows. We also include the Car Seat adaptors so you can quickly attach the car seat to the chassis. Finally, you can install the Car Seat with an Isofix Base (sold separately).
Chassis:
The Milano Plus chassis is light and compact when folded. It has an easy folding system, soft shock absorbers, an enclosed leatherette shopping basket, maintenance-free puncture resistant wheels, an integrated brake and a cup holder.
Changing Bag
The matching changing bag includes a removable fur pompom and shoulder strap. Inside the changing bag are all the essentials you will need such as a raincover, insect net, hand-muffs and changing mat.
Specifications
Dimensions
Chassis Folded (incl. Wheels): 72 x 58 x 58cm
Chassis Open (incl. Wheels): 121 x 58 x 107cm
Seat Unit (outer dimensions): 90 x 32cm
Carrycot (outer dimensions): 75 x 34 x 21cm

Weights
Chassis (incl. Wheels): 8.5kg
Seat Unit: 4.5kg
Carrycot: 5.5kg
Car Seat: 3.7kg
We deliver to ALL postal areas in the UK; England, Wales, Scotland and Northern Ireland. Please find a list of All Locations we ship to:
UK Mainland 
Scottish Highlands 
Scottish Islands
Scilly Islands 
Isle of Man 
Isle of White 
Northern Ireland 
Please note if an order has different delivery timescales, the fulfillment time for the order will be the oldest timescale.All orders are consolidated into 1 consignment. The customer may however request for the In Stock items to be sent, by paying a delivery charge to split the delivery.

Below shipping times only apply to items dispatched from Precious Little One and exclude our partners delivery timescales. (Exclude Direct Deliveries)

UK Mainland 3-5 days 
FREE Delivery on all orders over £50
If order is Under £50, a delivery charge of £3.75 will be applied
Saturday Service is available for £30.00 (If ordered before 2pm on Friday)
Next day delivery service available on request ( £5.95 )
Scottish Highlands (Next Working Day or 3 Days)
£19.95 Delivery Charge regardless of order value
Scottish Islands (4 Days)
£19.95 Delivery Charge regardless of order value
Northern Ireland (4 Days)
£24.95 Delivery Charge regardless of order value
5-10 Days Delivery - These products are usually IN and OUT of stock, they have usually been reserved in our supplier's warehouse. As soon as your order comes through, a request is made for the order to come to us. Once the Order has arrived it will be dispatched to you on a NEXT Day service. Depending on the brand the lead time could vary from 3, 5 , 7, or 10 Days.
Pre Order - Item is available to purchase from Precious Little One and will be dispatched at a later date. Stock has been reserved, the purchase order has been made. The item is due in stock when stated and will be dispatched as soon as it arrives into our warehouse.
All deliveries will receive an update from our warehouse followed by tracking information provided by either ourselves or, if on direct delivery, from our suppliers and their couriers.
Unfortunately, we do not ship outside the UK. 
If you have not received the entire order as expected, then please contact our customer services on 01977 515404 or send us an email via the contact us page.
Should you have any issues with your item(s) please report these either via the website or to our customer service team enquiries@precious-little-one.com
Please include an image or short video of the issue clearly showing the fault or damage along with confirmation of your order number, full name and delivery address.
Many of our suppliers will also need a batch number or item number so please check for these and include this when you send this through.
Once we have received all this information and a short description of the problem you are having, we will pass this onto our suppliers and raise this under your warranty. They will then advise us on the outcome/solution to the issues you are having.

FREE SHIPPING
Free worldwide shipping and returns - customs and duties taxes included
CUSTOMER SERVICE
We are available from monday to friday to answer your questions.
SECURE PAYMENT
Your payment information is processed securely.
CONTACT US
Need to contact us ? Submit a form at Contact Us