Crosslight-Pro Koos 10P Bundle
In stock
Pickup available at Unit 10-12 Baby and Childrens Outlet
Usually ready in 24 hours
Crosslight-Pro Koos 10P Bundle
Silver Shadow
Unit 10-12 Baby and Childrens Outlet
Pickup available, usually ready in 24 hours
Unit 10-12 Baby and Childrens Outlet
Junction 32 Castleford Outlet
Castleford WF10 4FR
United Kingdom
07706777067
Jané Crosslight Pro Silver Shadow Pushchair - An all-terrain stroller with a sleek, polished finish.
Introducing the new Jané Crosslight Pro Silver Shadow Pushchair - a stylish all-terrain stroller designed to meet the needs of parents on-the-go. This model is a sleek and polished version of the popular Crosslight Pro stroller, featuring a lacquered chassis that exudes elegance. With a folding seat unit that allows for convenient storage in both directions of travel and a magnetized harness that ensures safety and ease of use, the Crosslight Pro Silver Shadow is approved for up to 22 kilos.
Additionally, this pushchair comes with a range of features, including a large extendable hood with UPF 50+ sun protection, eco-leather handle and bumper bar, coordinating reversible seat liner, extra-large expandable shopping basket, rain cover, wind-stopper apron, and coordinating pram changing bag. Overall, the Jané Crosslight Pro Silver Shadow is a feature-rich, well-designed pushchair that offers style, convenience, and functionality all in one.
Micro Pro Carrycot + Koos iSize R1 infant car seat
This travel system package comes complete with MICRO PRO foldable carrycot – practical and light with a quick unfolding system, and the latest version of the award winning KOOS iSize infant car seat - the new iSize car seat with dual installation: isofix (with the optional extra base) or seat belt.
---
What's Included
Crosslight pushchair
Extra large extendable

 

UV50+ hood / canopy & Windstop apron
Pushchair Raincover
Coordinating and

 

Reversible seat liner
Coordinating

 

pram bag
Micro Pro carrycot
Koos iSize R1 Infant

 

Car seat
iPlatform Comfy, the

 

Isofix Base for Koos
Coordinating Footmuff
Cup holder
---
Why Buy Me?
All-terrain suspension - Independent front and rear shock absorbing suspension.
The pushchair's hydrolytic PU tyres with off-road traction are capable of handling uneven terrain, providing excellent riding comfort and smoothness on all types of roads.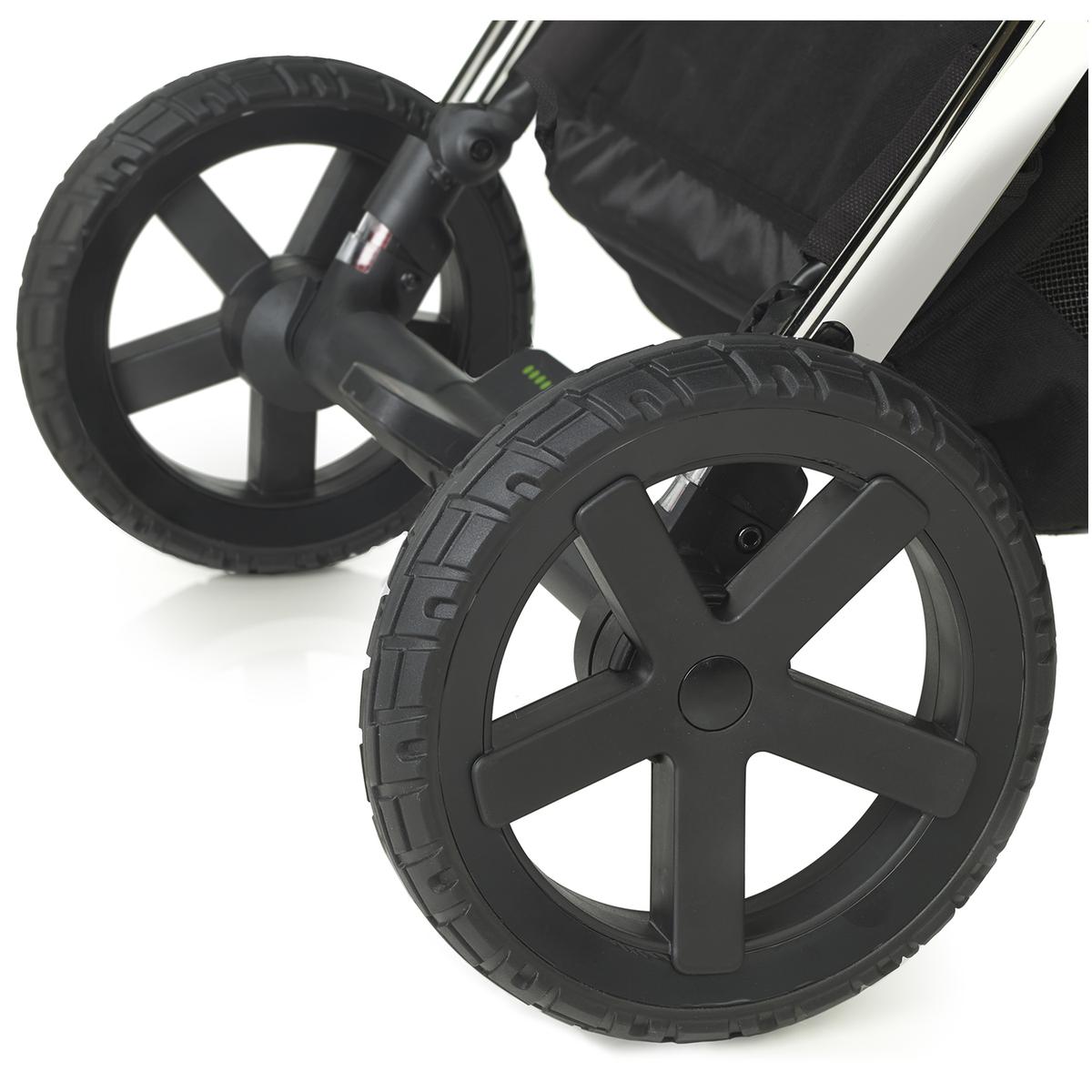 ---
5-point harness with magnetic closure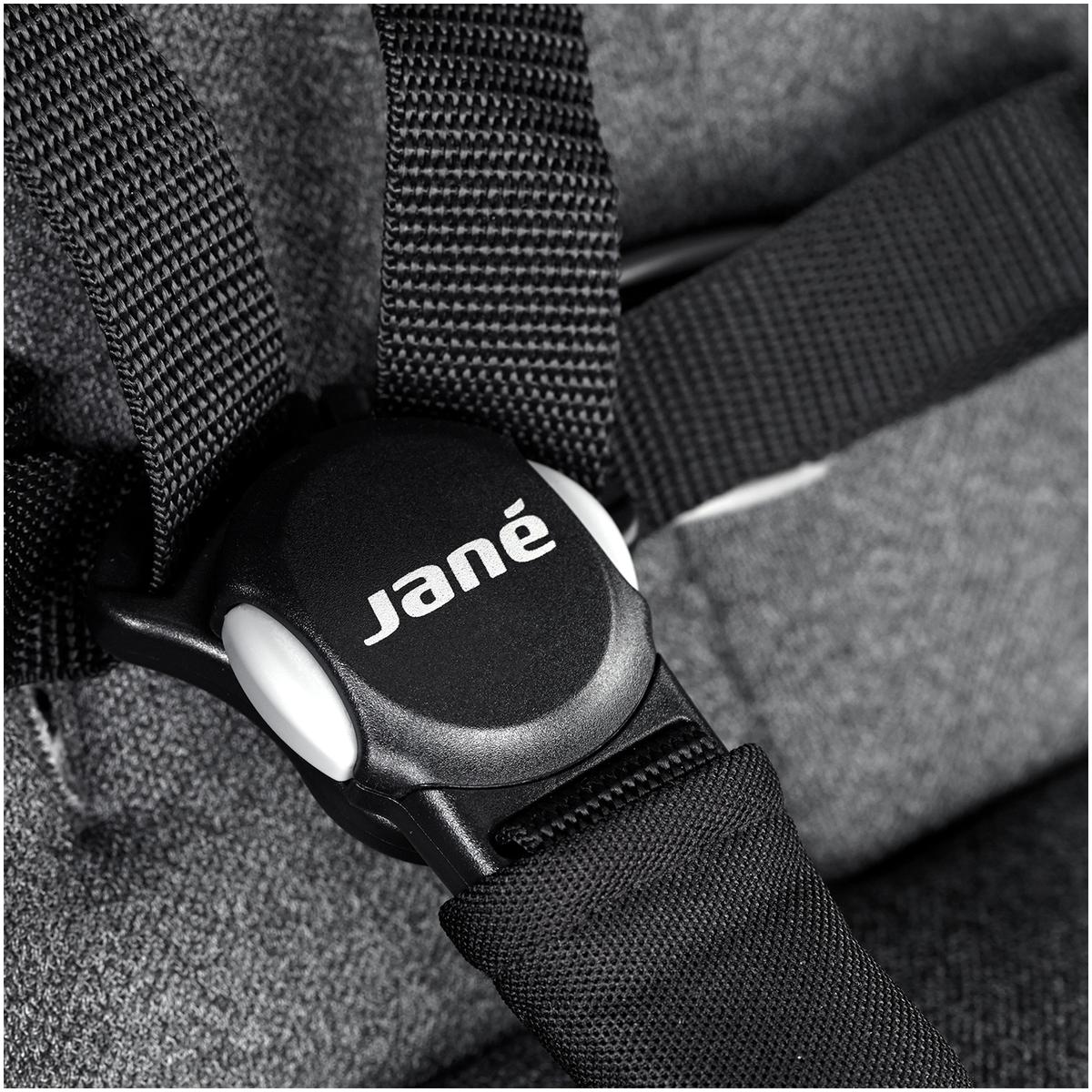 ---
Reversible lightweight seat unit - Seat unit with multi-position reclining adjustable with just one hand. Suitable from birth.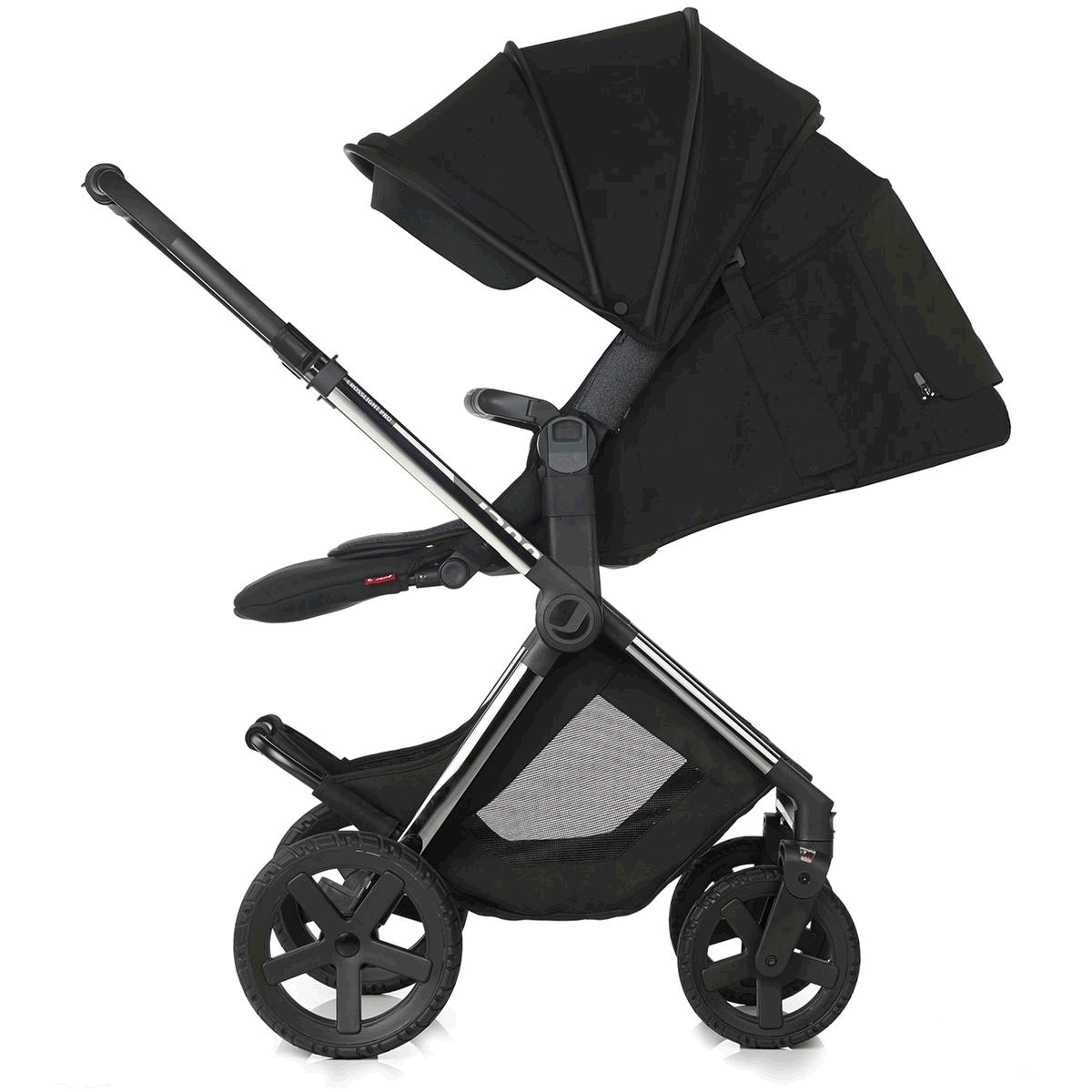 ---
Ventilation windows - Seat unit with independent rear windows with ventilation. Hood also extendable and with ventilation window.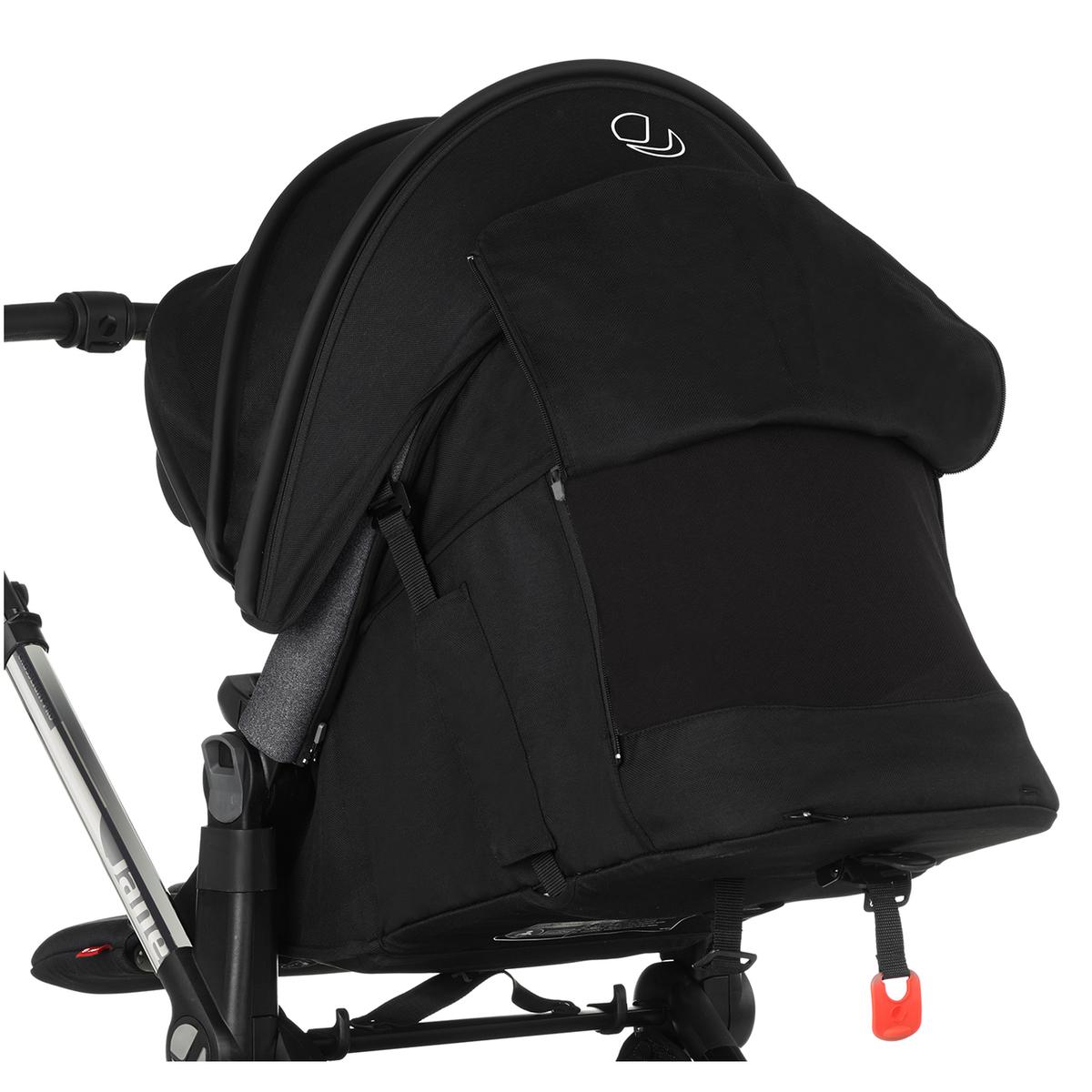 ---
Light and very compact - Compact fold even with the seat attached, thanks to its detachable wheels for even more compactness.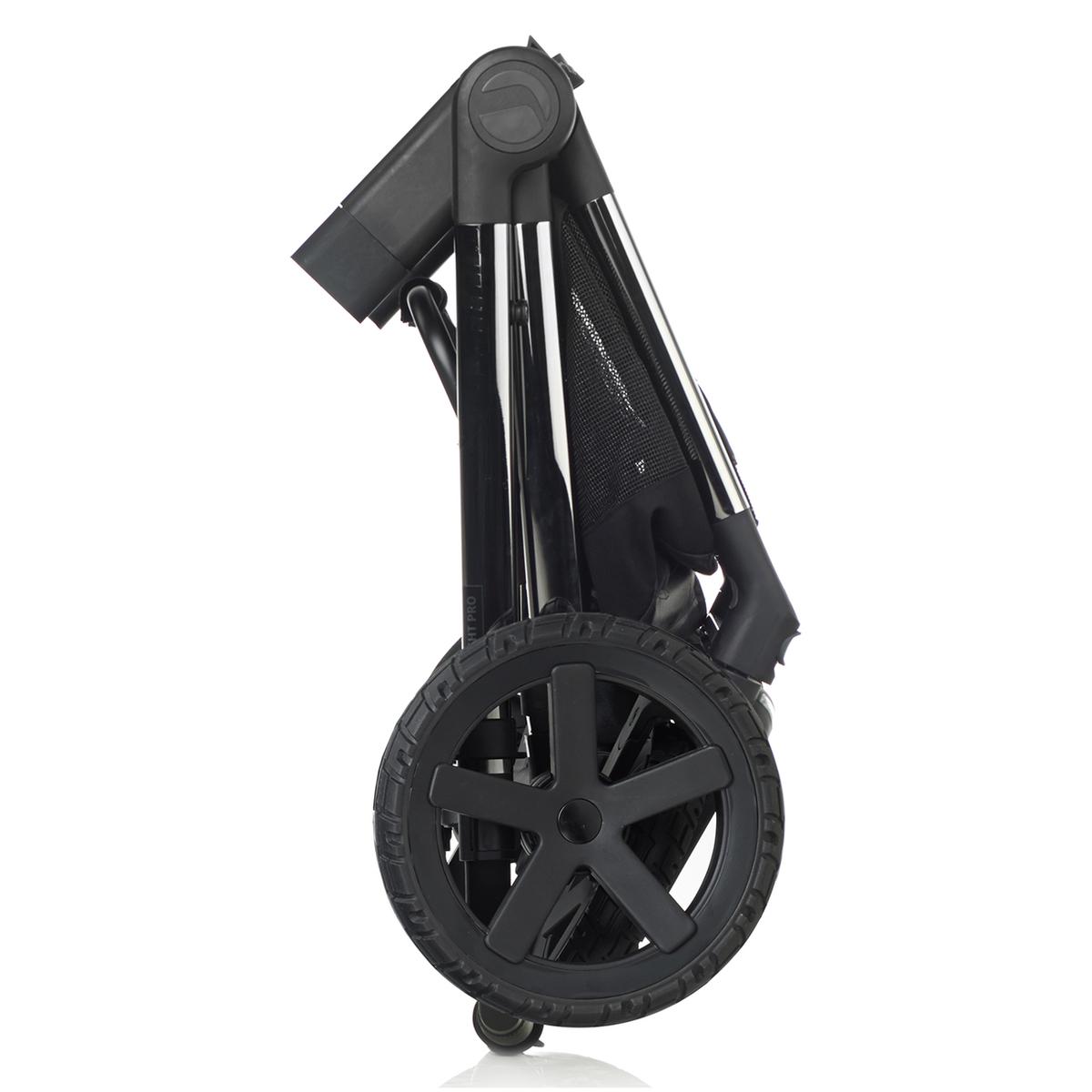 ---
Expandable extra-large basket -  New extra-large expandable shopping basket design: up to 4 kg / 18 litres.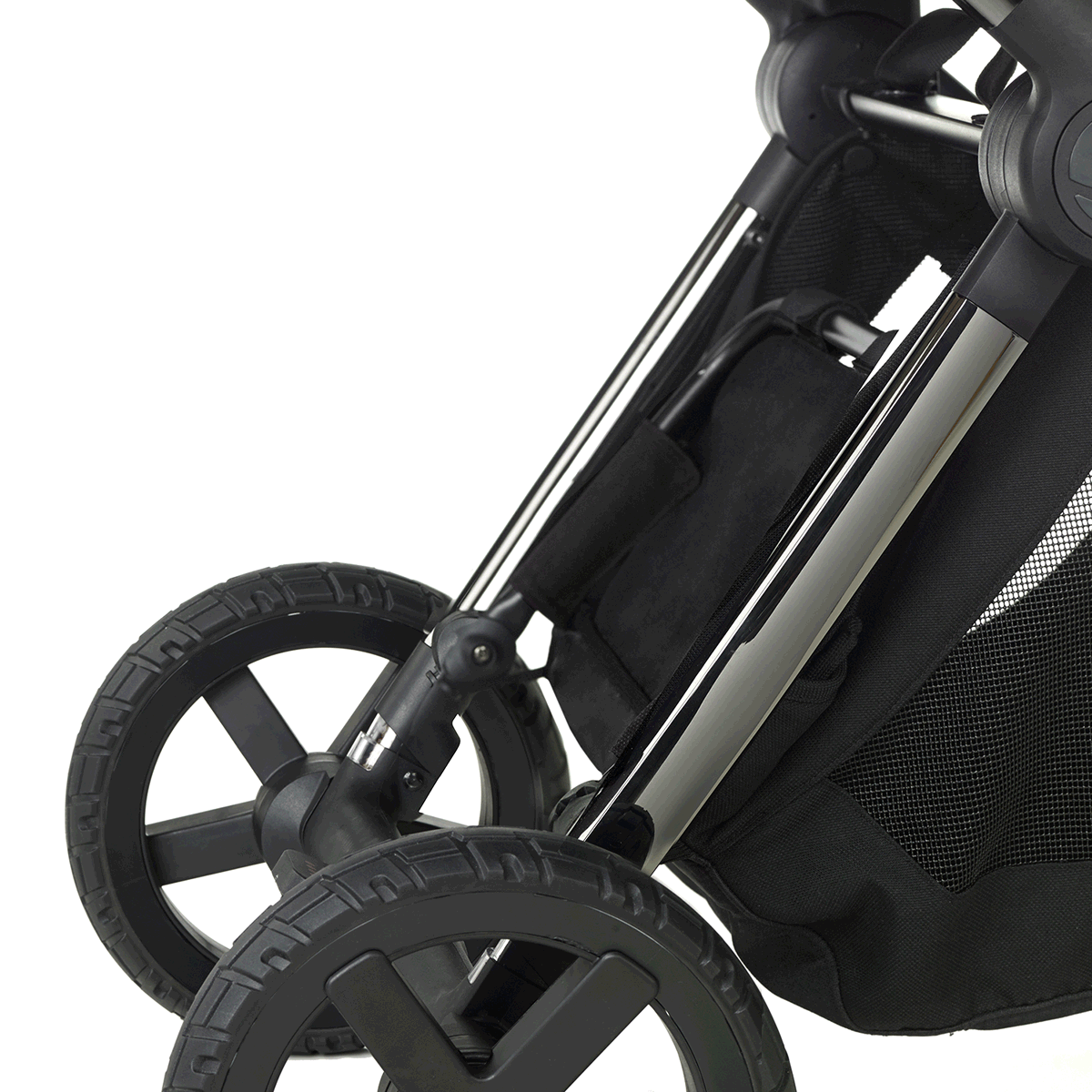 ---
The chassis comes with a polished and lacquered finish.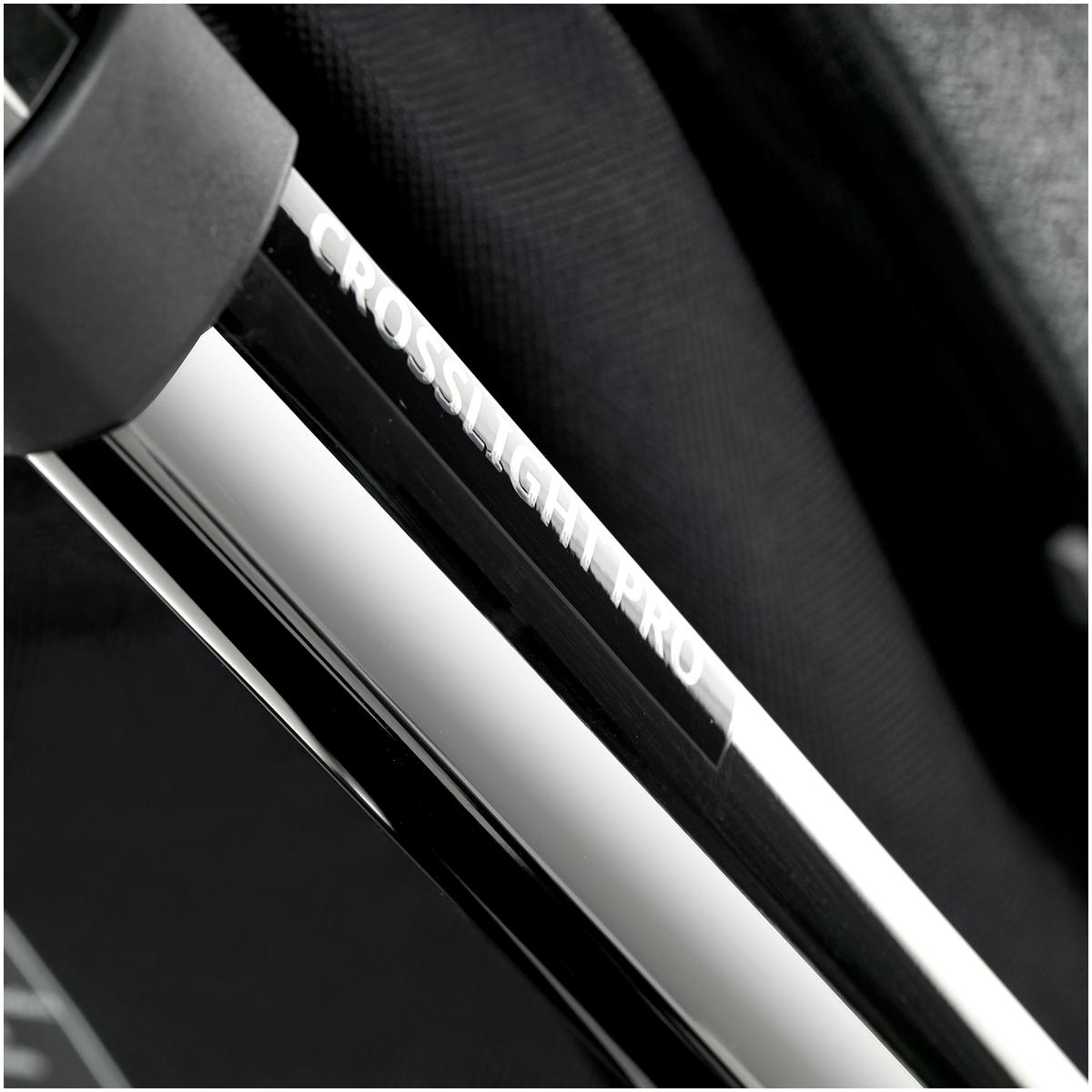 ---
Wind-stopper Apron - Pushchair apron included in the pocket under the footrest. The wind-stopper helps to maintain the temperature inside the pushchair.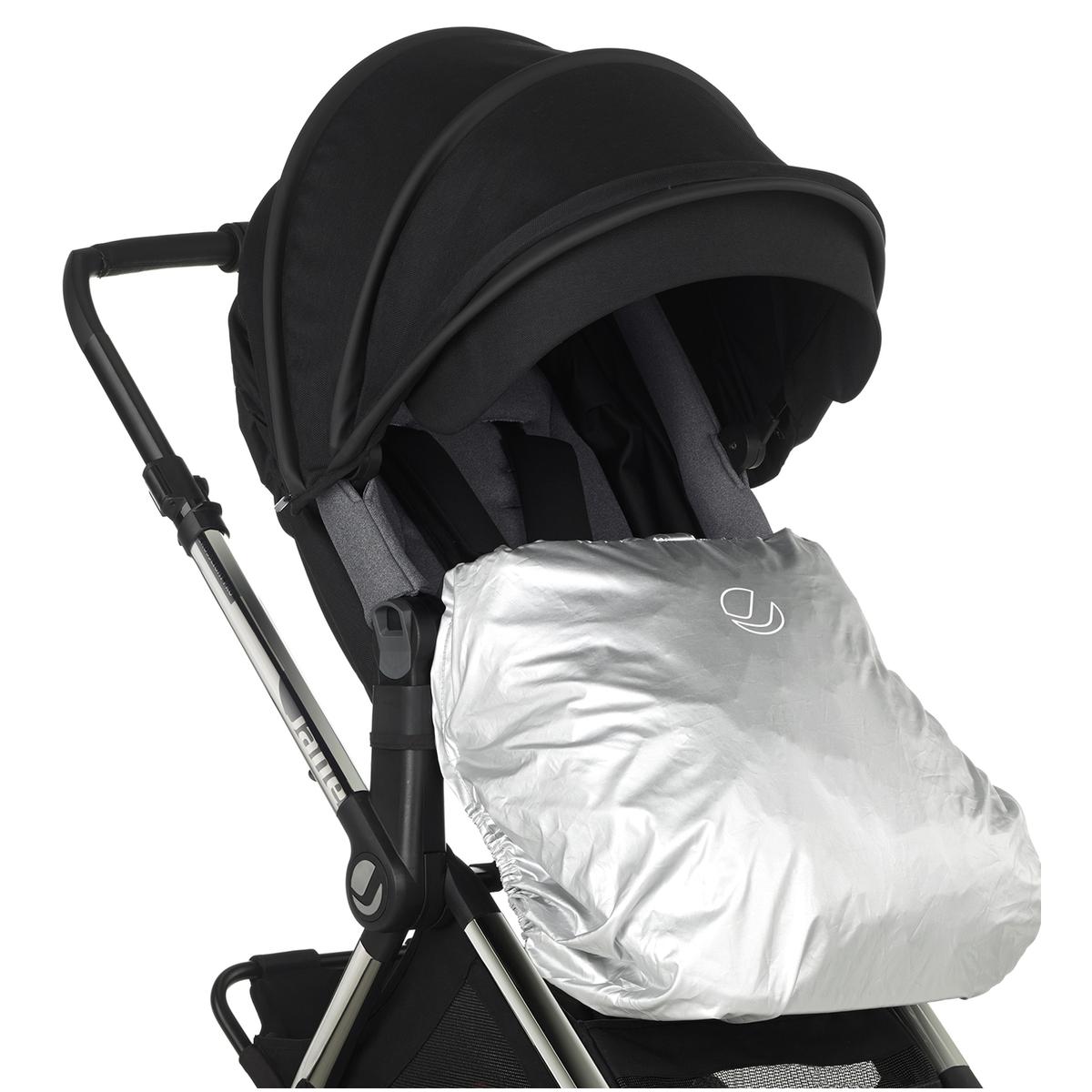 ---
Accessories included - Includes reversible Seat Liner, Raincover, wind-stopper apron and coordinating Pram Changing Bag.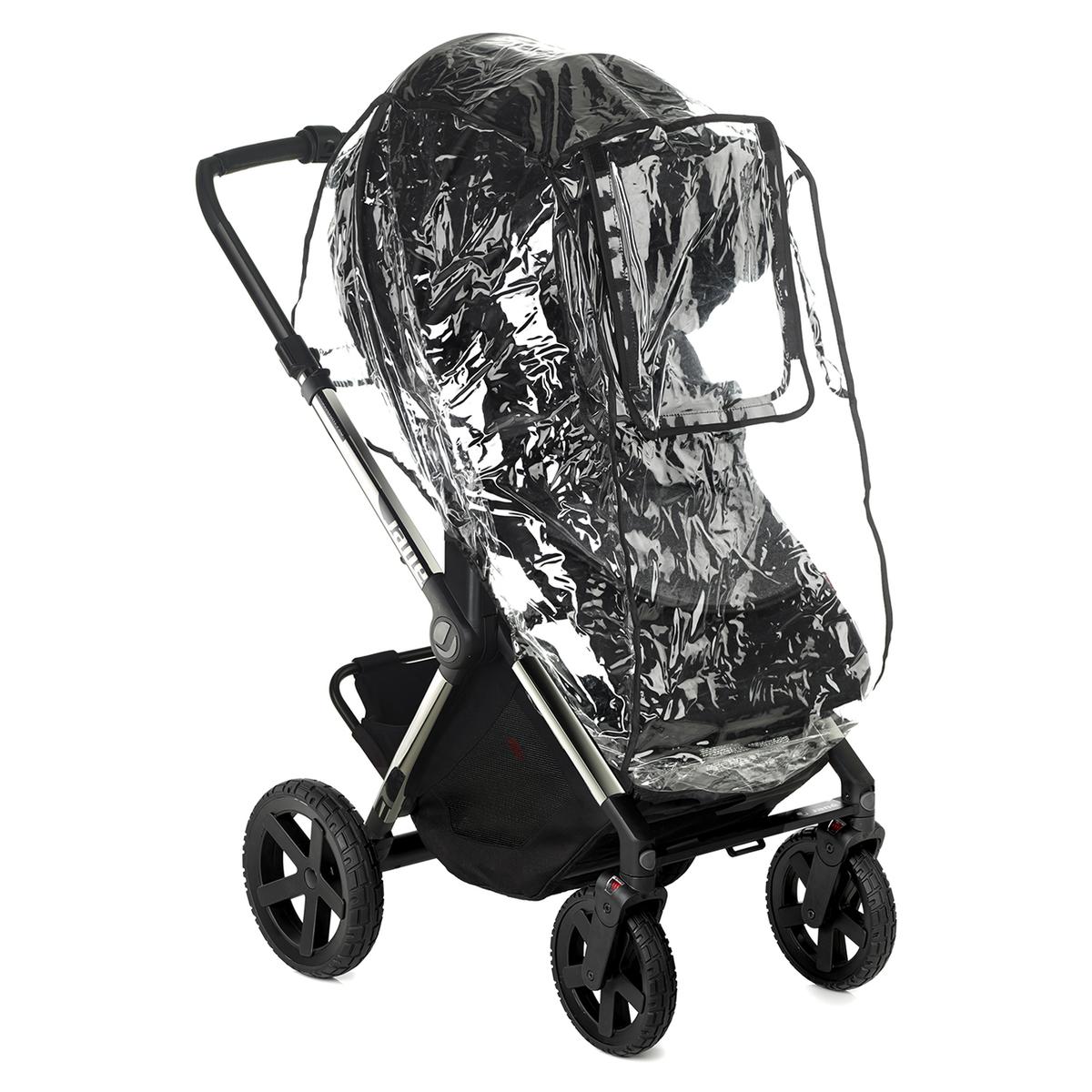 ---
Features & Benefits

Suitable from birth to 22 kg or 4 years

 

(whichever the child reaches first).
Reversible and lightweight seat unit with multi-position reclining adjustable with just one hand.
The backrest adjusts to multiple positions (105°-157°)

 

and is suitable for new-borns.
Adjustable footrest.
This pushchair comes equipped with a height-adjustable magnetic harness, which not only provides complete security but also offers ease of use during fastening.
Adjustable leatherette handlebar

 

with good grip and excellent feel, featuring contrast stitching and a

 

height range of 90-104 cm.
The pushchair comes with a

 

removable leatherette bumper bar

 

included.
The seat unit is

 

equipped with mesh rear windows

 

for improved ventilation for baby.
Oval lightweight, aluminium chassis.
With the built-in patented PRO-FIX system, car seats and carrycots can be locked and unlocked in one easy movement, eliminating the need for complicated fitting kits.
Synchronized dual action footbrake.
Independent front and rear shock absorbing suspension.
Adaptable all round, all-terrain suspension for the city and off-road - always offers baby maximum comfort.

The pushchair's hydrolytic PU tyres with off-road traction are capable of handling uneven terrain, providing excellent riding comfort and smoothness on all types of roads.
Detachable wheels

 

for even more compactness.
The pushchair now boasts an

 

extra-large expandable shopping basket, capable of carrying up to 4 kg or 18 litres of cargo.
Features a

 

large extendable hood

 

made from 60% recycled fabrics, which offers

 

UPF50 sun protection,

 

water-repellent

 

properties,

 

wind-stopper functionality, and breathability.
Extendable visor

 

integrated in the hood.
The pushchair is designed with a

 

handle that makes it easy to transport

 

when folded.
An included wind-stopper apron

 

can be found in the pocket located under the footrest, helping to regulate the temperature inside the pushchair.
Detachable and lockable front swivel wheels.
Travel system compatible pushchair, using either the built-in Pro-Fix system or with the Multi Car Seat Adaptors (available separately) it can be attached to most car seats on the market.

Specifications
Unfolded:

 

77-98 x 58 x 90-104 cm

Folded:

 

62.5 x 58 x 28.5 cm

Adjustable handle height:

 

90 - 104cm
Wheel Diameters:

 

Rear 25 cm | Front 20.8 cm

Weight:

 

7.9 kg | Seat unit 4.3 kg
---
Micro Pro Carrycot
Practical and light with a quick folding & unfolding system. Folds away in seconds.
This new Micro Pro carrycot is characterised by its visible structure and easy attachment system. Suitable from birth to 9 kg or baby can sit up unaided.
The carrycot gives you the ability to transport your baby in their own little sleep pod. When used as part of a Pushchair or Travel System for example, you can simply go out walking with your baby asleep in the carrycot and then detach the carrycot to extend their nap once back at home.

Features

The Micro Pro carrycot provides a practical and light option for transporting the baby while he rests.

To fold the carrycot, you quickly and easily pull the two straps at either end of the carrycot.

To Unfold you just release to two straps and the carrycot pops open ready for use.

Its aluminium structure delivers a stylish modern design and practical lightweight functionality.

The rigid one-piece stable base lets the baby rest in complete comfort.

Extendable hood with high quality 3D stretchy fabric. Folding, breathable, with UPF 50+ sun protection, water repellent and protects from the wind.

Includes an anti-choking cushion that prevents and combats cephalic malformation.

Suitable for overnight sleeping or for naps during the day.

Oval aluminium carrying handle fitted on the hood with Eco leather protection to coordinate with the upholstery.

Compatible with Jané pushchairs using the Pro-Fix system (No need to buy any fitting kits).

Removable and washable upholstery.

Approved under the European Safety Standard for pushchairs and prams EN1888.
Specifications
Suitable from birth to 9 kg (approx. 6-9 months)

Internal mattress bed size: 74 x 30 cm.

Dimensions: Open 80 x 45 x 31 cm | Folded 80 x 42 x 18 cm

Weight: 4kg
---
Koos i-Size R1 car seat
Suitable from 40-83 cm, birth to 18 months approx.
Koos iSize R1 complies with both the R44/4 and the new R129 (iSize) European Safety Regulations.

 

Universal classification - this iSize car seat is 100% compatible with an iSize vehicle seat and almost all cars with Isofix anchors using the isofix base or seat belts.
Dual installation:

 

isofix or seat belt.
The built-in PROFIX connection system

 

makes it compatible with the iPlatform ISOFIX base and all Jané pushchairs.
Includes Side Impact Protectors

 

that are specially designed to absorb side impacts along with the adjustable headrest. Fitted with "memory foam" for maximum dissipation of loads in the event of a side impact.
Multi-functional buttons

 

for easy carrying handle adjustment and travel system chassis release.
Adjustable headrest to 5 positions.

 

The headrest adjusts to suit the baby's height and can be conveniently adjusted while your baby is still in the seat.
Straps adjust and adapt automatically

 

when you adjust the headrest to your baby's height.
3-Point safety harness with one-pull adjustment.
Removable and washable

 

upholstery.
Correct installation indicators.
The adjustable

 

hood is breathable, repels water and protects from the sun UV50+.
New 40-60 cm cushion insert, for new-borns,

 

which improves the resting angle and increases safety in the event of side impact.
Optional isofix base available: iPlatform, this is the quickest and safest installation system, as it prevents any installation errors that could affect safety.
Specifications
Dimensions: 66 x 44 x 58 cm

Weight: 3kg
---
iPlatform Comfy Isofix base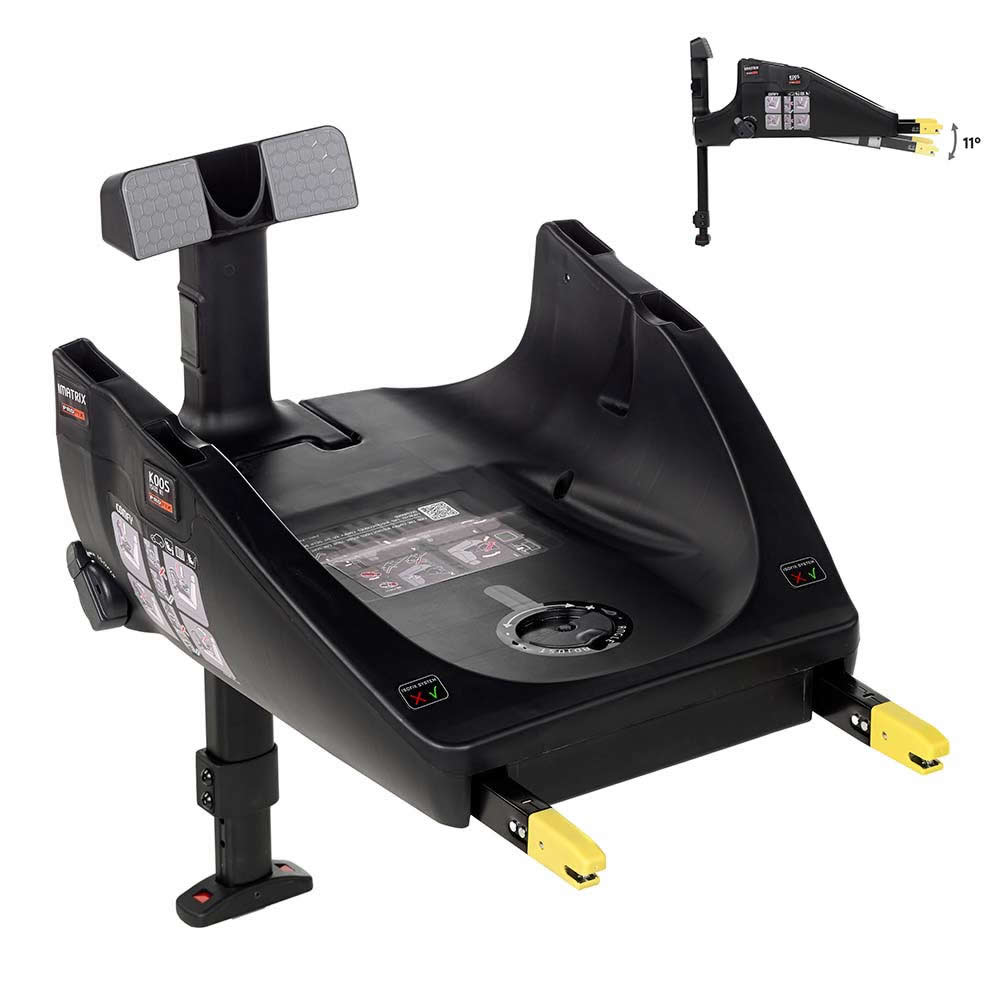 Features

Recline adjustment device with an integrated button. This function means you can easily adjust the baby's angle of rest while the ISOFIX connection remains locked in the car, making the Jané baby carrier even more convenient to use.
Isofix opening button with safety catch to prevent accidental unlocking.The baby's head is in a slightly better position, for greater comfort and safety in the event of impact.
Intuitive and safe anchoring system using automatic extraction and retractable Isofix anchors.
Correct installation indicators.
Complies with European Safety Standard ECE R129 (i-Size) - means it is easy to fit, Safer, and more Secure.
Specifications
Height adjustable anti-rotation support leg: 27 to 52.5 cm
Dimensions: H 27 x W 44 x D 54 cm, Support leg H 27 – 52.5 cm
Product Weight: 7 kg
We deliver to ALL postal areas in the UK; England, Wales, Scotland and Northern Ireland. Please find a list of All Locations we ship to:
UK Mainland 
Scottish Highlands 
Scottish Islands
Scilly Islands 
Isle of Man 
Isle of White 
Northern Ireland 
Please note if an order has different delivery timescales, the fulfillment time for the order will be the oldest timescale.All orders are consolidated into 1 consignment. The customer may however request for the In Stock items to be sent, by paying a delivery charge to split the delivery.

Below shipping times only apply to items dispatched from Precious Little One and exclude our partners delivery timescales. (Exclude Direct Deliveries)

UK Mainland 3-5 days 
FREE Delivery on all orders over £50
If order is Under £50, a delivery charge of £3.75 will be applied
Saturday Service is available for £30.00 (If ordered before 2pm on Friday)
Next day delivery service available on request ( £5.95 )
Scottish Highlands (Next Working Day or 3 Days)
£19.95 Delivery Charge regardless of order value
Scottish Islands (4 Days)
£19.95 Delivery Charge regardless of order value
Northern Ireland (4 Days)
£24.95 Delivery Charge regardless of order value
5-10 Days Delivery - These products are usually IN and OUT of stock, they have usually been reserved in our supplier's warehouse. As soon as your order comes through, a request is made for the order to come to us. Once the Order has arrived it will be dispatched to you on a NEXT Day service. Depending on the brand the lead time could vary from 3, 5 , 7, or 10 Days.
Pre Order - Item is available to purchase from Precious Little One and will be dispatched at a later date. Stock has been reserved, the purchase order has been made. The item is due in stock when stated and will be dispatched as soon as it arrives into our warehouse.
All deliveries will receive an update from our warehouse followed by tracking information provided by either ourselves or, if on direct delivery, from our suppliers and their couriers.
Unfortunately, we do not ship outside the UK. 
If you have not received the entire order as expected, then please contact our customer services on 01977 515404 or send us an email via the contact us page.
Should you have any issues with your item(s) please report these either via the website or to our customer service team enquiries@precious-little-one.com
Please include an image or short video of the issue clearly showing the fault or damage along with confirmation of your order number, full name and delivery address.
Many of our suppliers will also need a batch number or item number so please check for these and include this when you send this through.
Once we have received all this information and a short description of the problem you are having, we will pass this onto our suppliers and raise this under your warranty. They will then advise us on the outcome/solution to the issues you are having.

FREE SHIPPING
Free worldwide shipping and returns - customs and duties taxes included
CUSTOMER SERVICE
We are available from monday to friday to answer your questions.
SECURE PAYMENT
Your payment information is processed securely.
CONTACT US
Need to contact us ? Submit a form at Contact Us