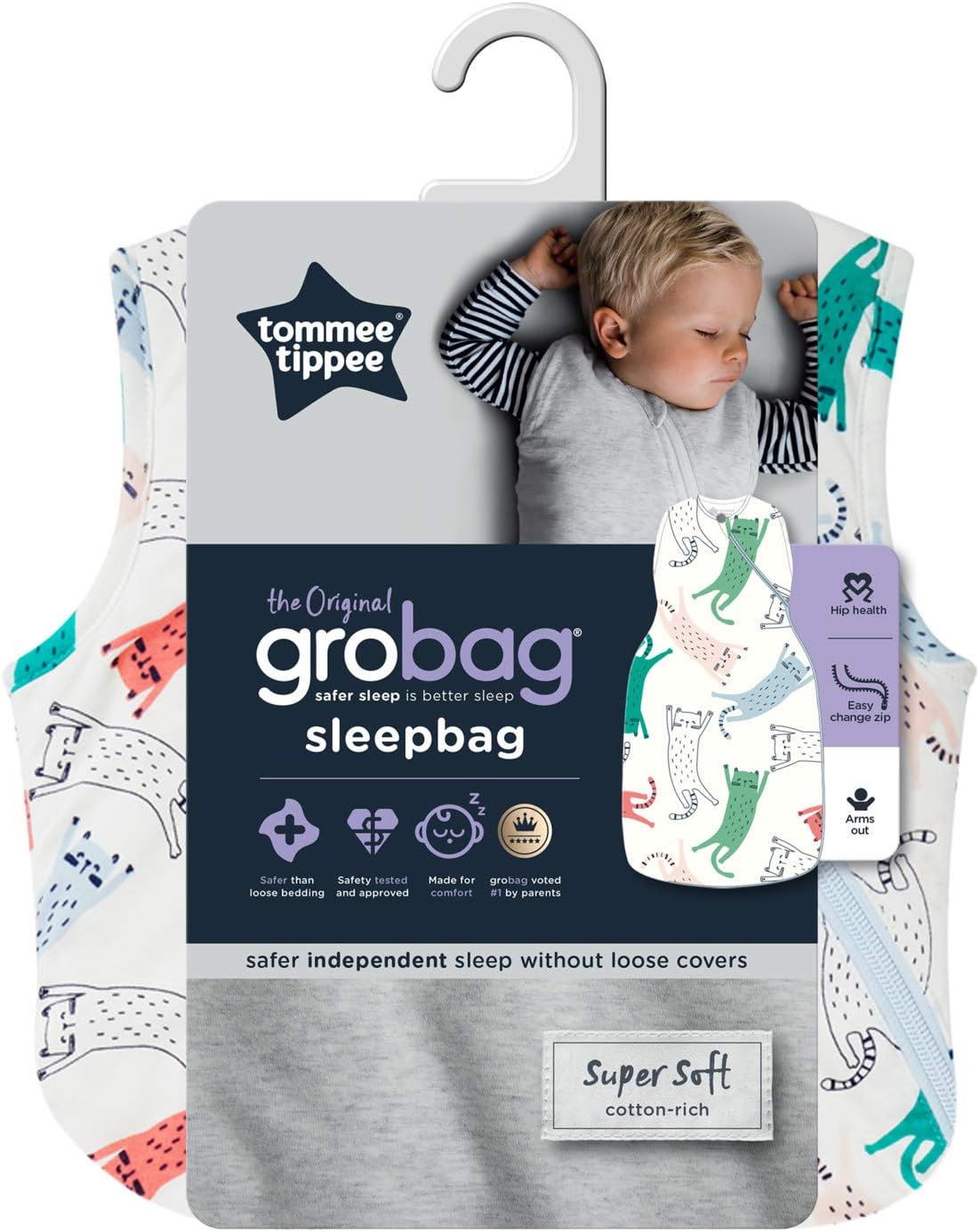 tommee tippee Gro Bag Sleep Bag 6-18m 1.0 tog Tog Pet Story
In stock
Pickup available at Unit 10-12 Baby and Childrens Outlet
Usually ready in 24 hours
tommee tippee Gro Bag Sleep Bag 6-18m 1.0 tog Tog Pet Story
Unit 10-12 Baby and Childrens Outlet
Pickup available, usually ready in 24 hours
Unit 10-12 Baby and Childrens Outlet
Junction 32 Castleford Outlet
Castleford WF10 4FR
United Kingdom
07706777067
Baby sleep bags can help babies sleep better because, with no loose blankets or sheets to get tangled up in or kick off while they're sleeping, they help little ones regulate their temperature when sleeping, so they are less likely to be disturbed by being too hot or too cold. Safer sleep is better sleep and preventing babies from overheating is an important part of safer sleep. 
Our sleep bags are available in four different togs (warmth ratings) so that you can dress your baby safely for the room temperature: 3.5 Tog: ideal for cold winter months and for cold rooms below 14°C 2.5 Tog: suitable for use all year round and for room temperatures between 14-20°C 1.0 Tog: ideal for use in warmer months or in rooms with temperatures between 20-24°C. 0.2 Tog: ideal for heatwaves, hot weather and very warm rooms with temperatures above 24°C. Choose from a variety of beautiful designs from our 'every night' to 'luxury' ranges. Please refer to What to Wear guide to ensure you dress your baby in the correct clothing under our sleep bags. 
Made from super soft cotton-rich, fluorescent-free fabric our sleep bags are snuggly and kind on baby's skin – perfect for a comfortable night's sleep. Our sleep bags have been designed to be snug up top and wriggly down below - slim fitting through the chest to enable full freedom of movement without restriction or excess bulk with a roomy, hip-healthy bottom to allow your baby to adopt a natural "frog-legged" sleeping position, which is important for correct hip development.
Should your little one need changing during the night, there's easy zip access to help you deal with those night-time nappy changes without disturbing baby or anyone else who is trying to get some much-needed rest. *from an independent study in April 2021 by MumsViews of 297 UK Mums, who currently use a Grobag
How to use
Simply does it... Settling your baby into a Tommee Tippee sleep bag couldn't be easier. Simply unzip, lay your baby flat and pop their arms through the arm holes. Comfy and cosy Zip them in and they'll be comfy and cozy all night. In fact, 85% of babies sleep better in Tommee Tippee sleep bags, so you'll get more rest too! Quick change For quick and easy nappy changes, unzip your sleep bag from the bottom. You can do what you need to do, whilst they stay warm, cosy and sleepy!
Hazards and Cautions
WARNINGS! KEEP AWAY FROM FIRE Do not use if the child's head can pass through the neck opening when fastened for use. Ensure that the neck and arm openings are securely fastened. Do not use if the child can climb out of the cot. Do not use in combination with cot quilt/duvet or blanket. Take into account the room temperature and the child's sleepwear. Overheating can endanger the life of your child! Always ensure that your child is dressed correctly for the TOG of the garment and the temperature of the room. We recommend if you do not know the temperature that you use a room thermometer. Please ensure you correctly position the top zip guard over the zipper pull. When your child starts to roll over ensure you use with your arms out. Do not use in a car seat or stroller. Stop using the sleepbag at first sign of damage. Do not use if the zip is damaged. Wash the sleepbag before its first use. Close the zipper before washing and re-shape whilst damp. SAFE SLEEP ADVICE Always place your child on their back to sleep. Always use a clear flat mattress. Do not use with a baby nest. Check and touch your child regularly to check they are not too warm or cold, if in doubt consult a health care professional.
Important info
• 85% of babies sleep better* in our sleep bags: Baby sleep bags help little ones regulate their temperature while sleeping by ensuring there are no loose blankets for them to kick off
• No sleep bag is safer: All our products are safety tested and approved and adhere to British and European Safety Standards
• Super soft cotton-rich fabric: Made for comfort our sleep bag is designed using soft cotton-rich, fluorescent free fabric, perfect for a comfortable night's sleep
• SnugfIt: Slim fitting through the chest, with a roomy, hip-healthy bottom to allow your baby to adopt a natural "frog-legged" sleeping position, which is important for correct hip development
• Easy nappy changes: The easy zip opening is perfect for night-time nappy changes as you can keep baby cosy and warm at the top, but can unzip from the bottom for a quick-change for minimum disturbance 
Ingredients
100% cotton Super soft, cotton-rich fabric – made for comfort, our sleep bags are designed using touchably soft, fluorescent-free, 100% cotton fabric which is machine washable and suitable for tumble driers.
We deliver to ALL postal areas in the UK; England, Wales, Scotland and Northern Ireland. Please find a list of All Locations we ship to:
UK Mainland 
Scottish Highlands 
Scottish Islands
Scilly Islands 
Isle of Man 
Isle of White 
Northern Ireland 
Please note if an order has different delivery timescales, the fulfillment time for the order will be the oldest timescale.All orders are consolidated into 1 consignment. The customer may however request for the In Stock items to be sent, by paying a delivery charge to split the delivery.

Below shipping times only apply to items dispatched from Precious Little One and exclude our partners delivery timescales. (Exclude Direct Deliveries)

UK Mainland 3-5 days 
FREE Delivery on all orders over £50
If order is Under £50, a delivery charge of £3.75 will be applied
Saturday Service is available for £30.00 (If ordered before 2pm on Friday)
Next day delivery service available on request ( £5.95 )
Scottish Highlands (Next Working Day or 3 Days)
£19.95 Delivery Charge regardless of order value
Scottish Islands (4 Days)
£19.95 Delivery Charge regardless of order value
Northern Ireland (4 Days)
£24.95 Delivery Charge regardless of order value
5-10 Days Delivery - These products are usually IN and OUT of stock, they have usually been reserved in our supplier's warehouse. As soon as your order comes through, a request is made for the order to come to us. Once the Order has arrived it will be dispatched to you on a NEXT Day service. Depending on the brand the lead time could vary from 3, 5 , 7, or 10 Days.
Pre Order - Item is available to purchase from Precious Little One and will be dispatched at a later date. Stock has been reserved, the purchase order has been made. The item is due in stock when stated and will be dispatched as soon as it arrives into our warehouse.
All deliveries will receive an update from our warehouse followed by tracking information provided by either ourselves or, if on direct delivery, from our suppliers and their couriers.
Unfortunately, we do not ship outside the UK. 
If you have not received the entire order as expected, then please contact our customer services on 01977 515404 or send us an email via the contact us page.
Should you have any issues with your item(s) please report these either via the website or to our customer service team enquiries@precious-little-one.com
Please include an image or short video of the issue clearly showing the fault or damage along with confirmation of your order number, full name and delivery address.
Many of our suppliers will also need a batch number or item number so please check for these and include this when you send this through.
Once we have received all this information and a short description of the problem you are having, we will pass this onto our suppliers and raise this under your warranty. They will then advise us on the outcome/solution to the issues you are having.

FREE SHIPPING
Free worldwide shipping and returns - customs and duties taxes included
CUSTOMER SERVICE
We are available from monday to friday to answer your questions.
SECURE PAYMENT
Your payment information is processed securely.
CONTACT US
Need to contact us ? Submit a form at Contact Us