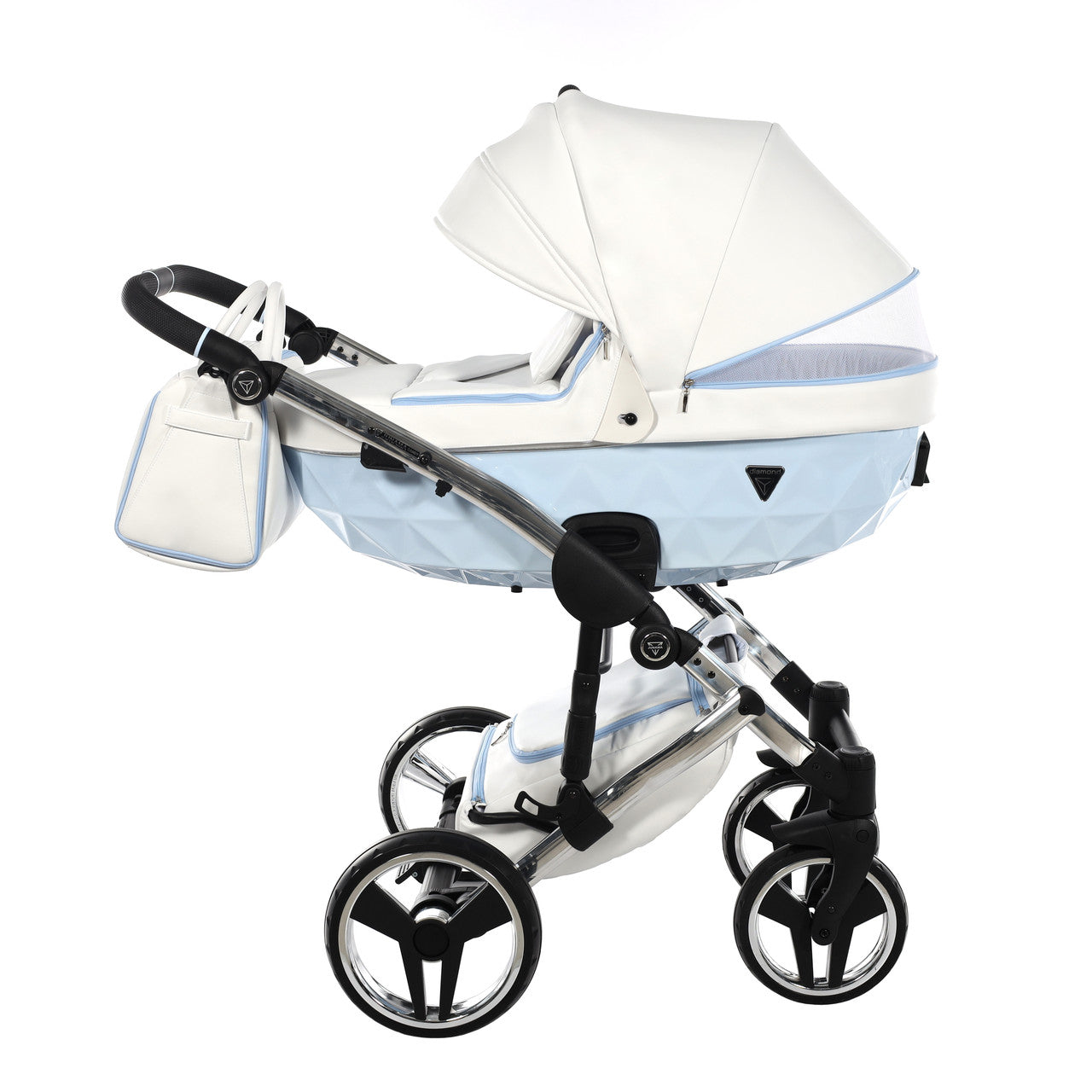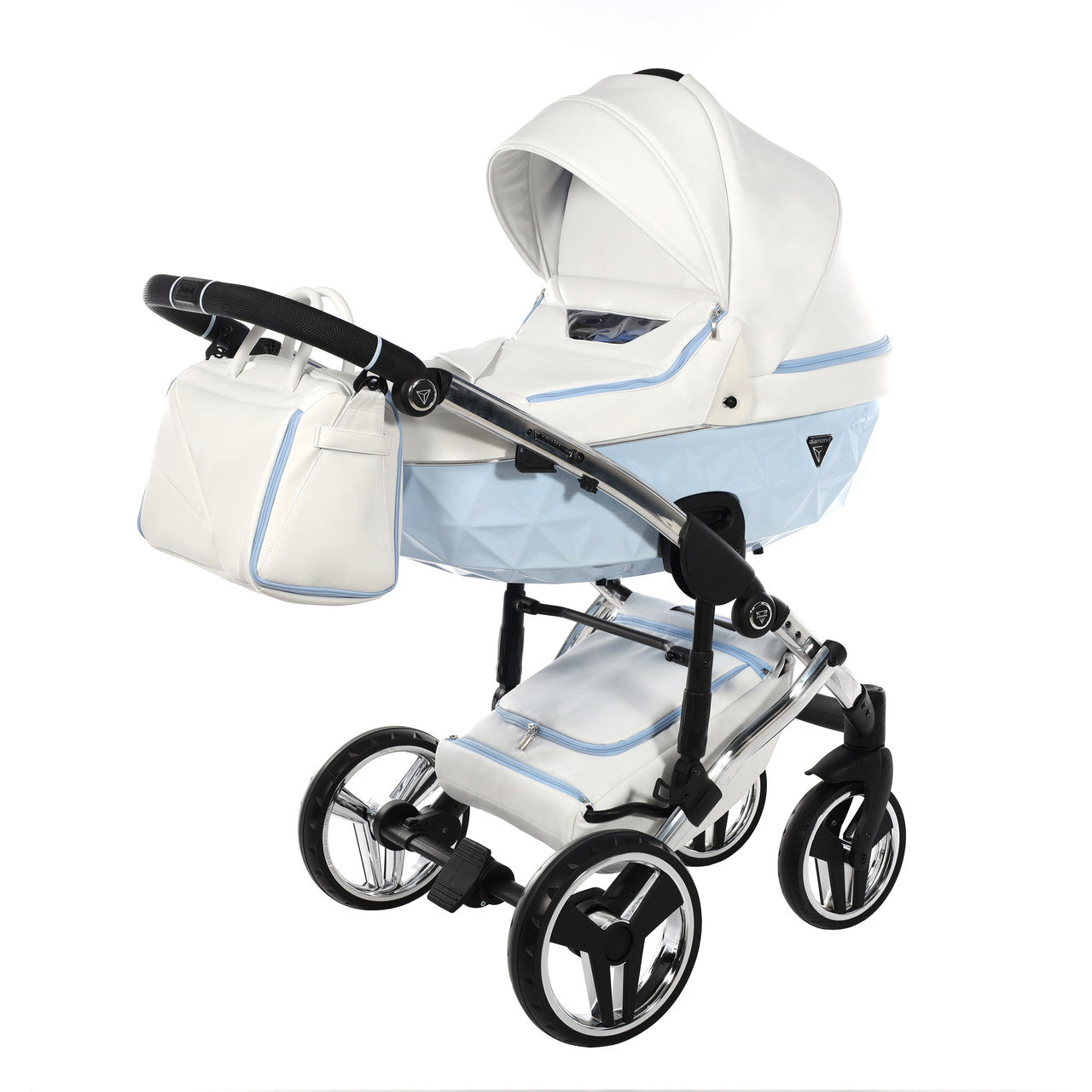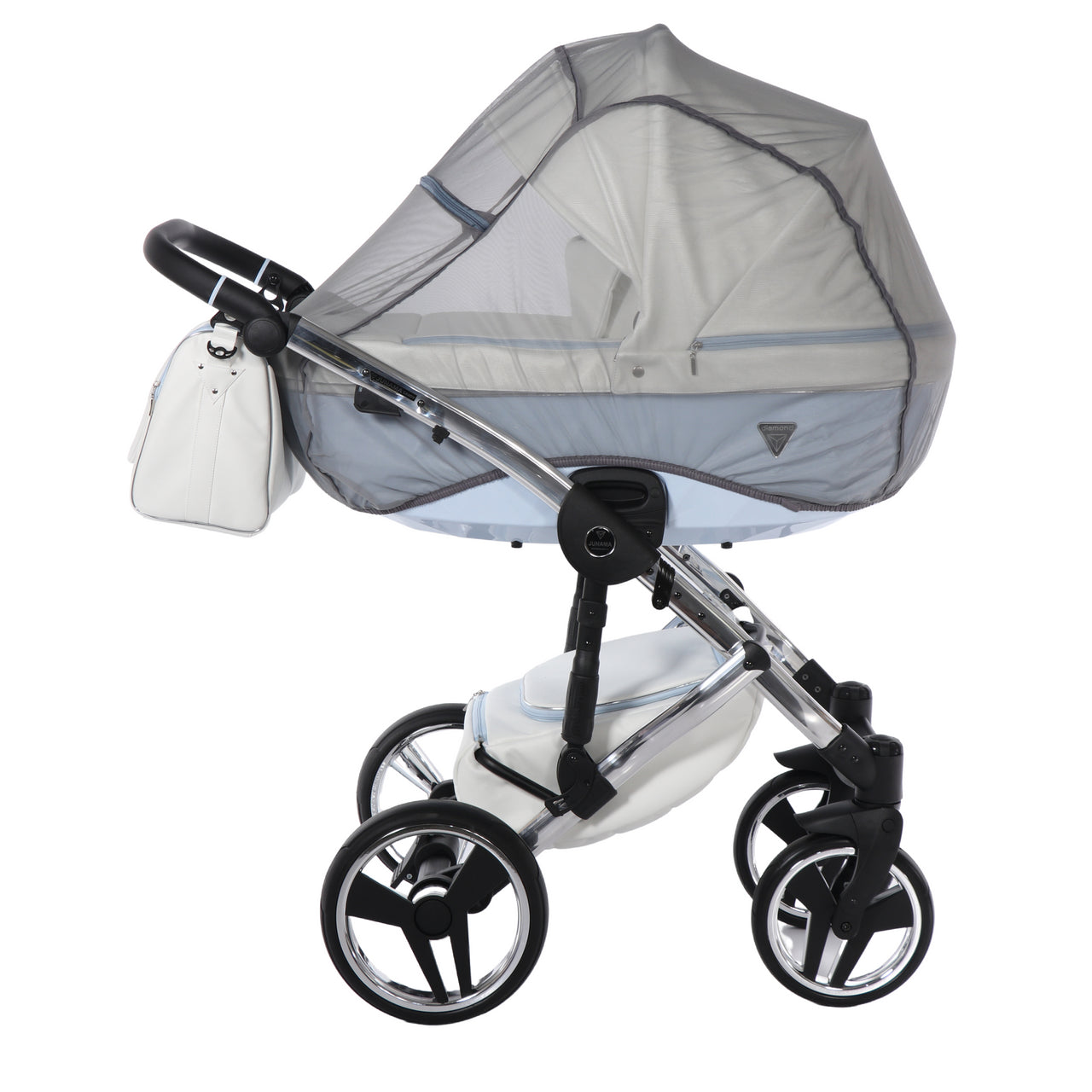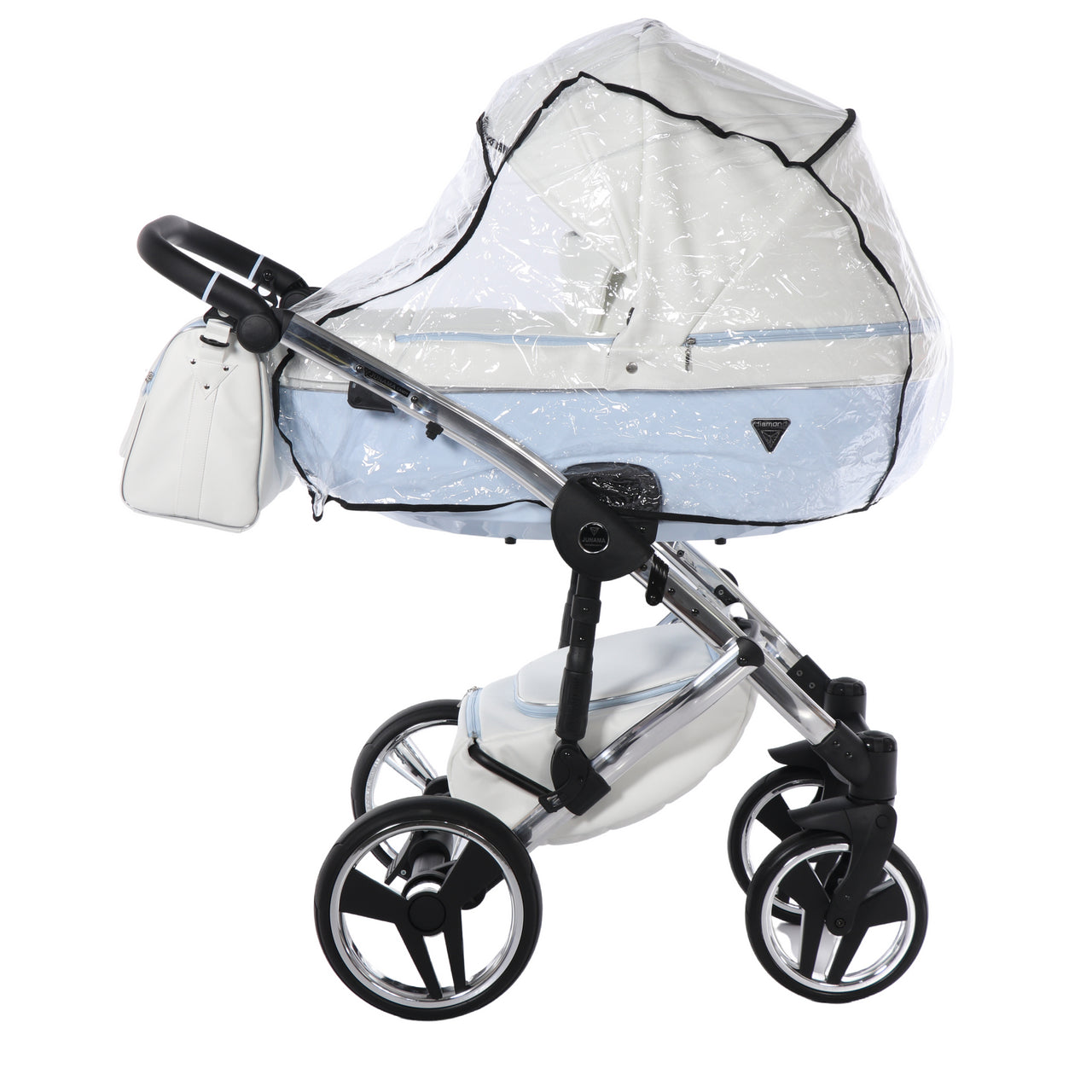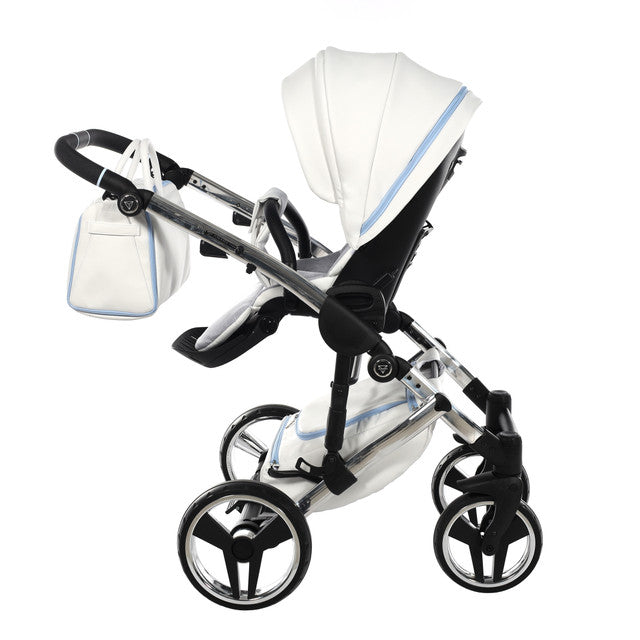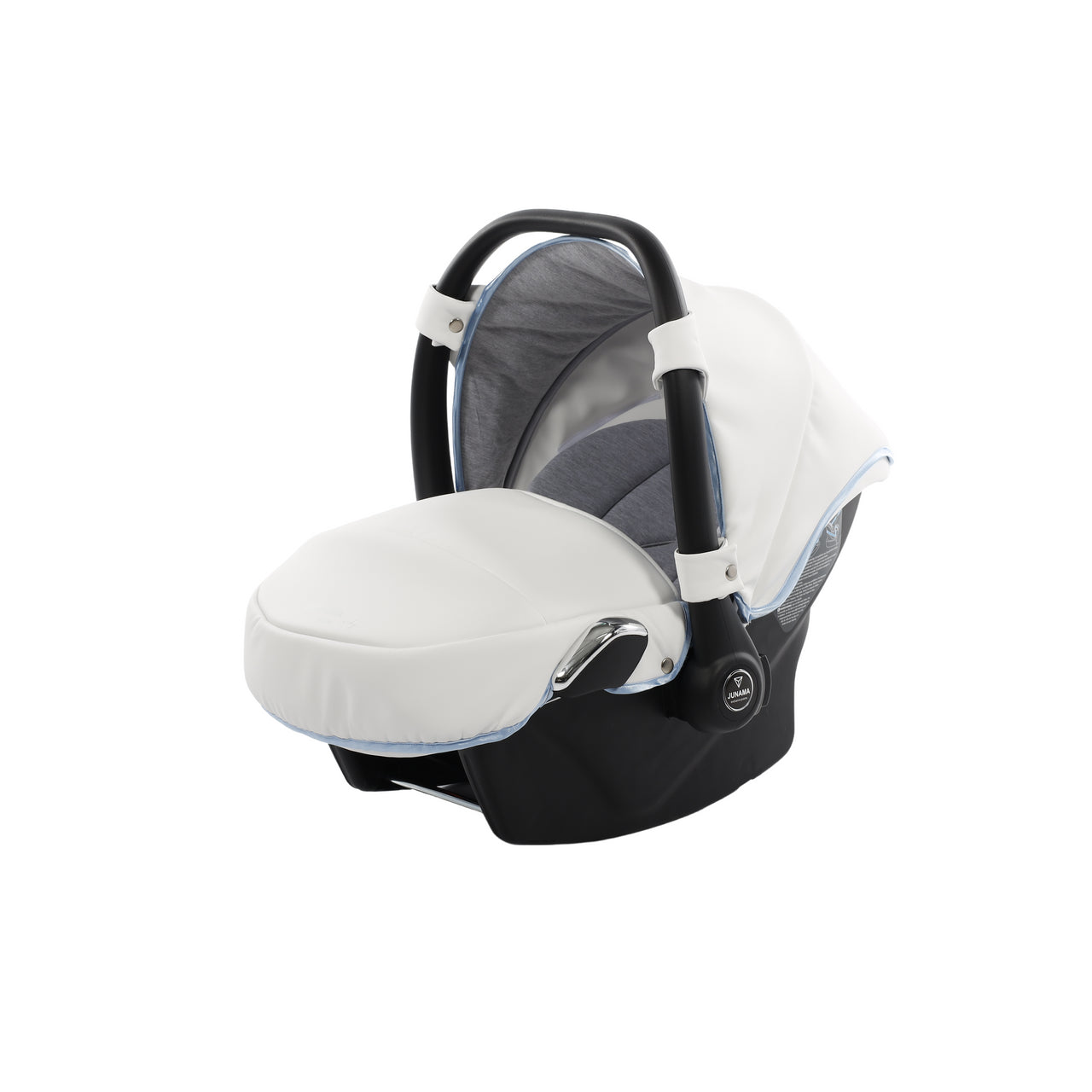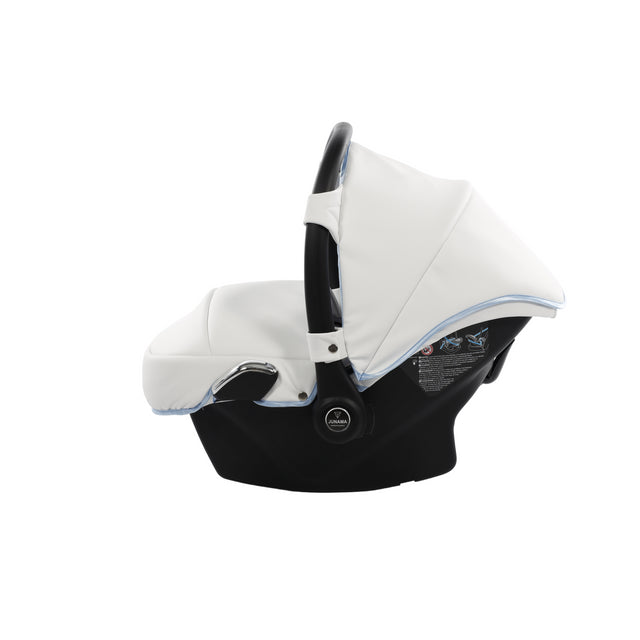 Junama Candy Blue 3IN1 (INCLUDES CAR SEAT)
In stock
Pickup available at Unit 10-12 Baby and Childrens Outlet
Usually ready in 24 hours
Junama Candy Blue 3IN1 (INCLUDES CAR SEAT)
Unit 10-12 Baby and Childrens Outlet
Pickup available, usually ready in 24 hours
Unit 10-12 Baby and Childrens Outlet
Junction 32 Castleford Outlet
Castleford WF10 4FR
United Kingdom
07706777067
Junama Candy Blue 02

The Junama Candy pram is one of our bestsellers and comes in both blue and pink. The Candy Blue pram is a gorgeous pram with the iconic diamond design carrycot in baby blue, white eco-leather hood, silver frame, silver wheel rims and baby blue detailing. 
What's included in the 3in1?
Chassis
Diamond carrycot
Carrycot safety harness
Pushchair seat unit
Pushchair apron/leg cover
Deluxe changing bag
Changing mat
Rain cover
Mosquito net
Cup holder
Car seat 
Junama has designed and manufactured exclusive prams in Europe for over 30 years. The Junama pram offers a completely new look in the world of prams. Inspired by the jewel that evokes the greatest emotion, the diamond, Junama designed the rare and beautiful diamond carrycot.
The Junama pram will certainly make a statement, but doesn't compromise on functionality and comfort. For years, Junama's goal has been to design the safest and most comfortable yet stylish pram on the market. For this reason, Junama developed many innovative systems that have become a permanent part of our products. The Junama prams are well-equipped with lots of practical features to help you travel with your little one(s) safely and easily.
Junama Candy Features:
Chassis
Aluminium frame, designed for strength and durability
180° adjustable handle bar, great for taller parents
Quick release wheels for more compact folding and storage 
Puncture proof tyres
360° swivel and lock front wheels
Suspension system including 6 shock breakers
Rear wheel shock absorber
Adjustable shock absorber adaptable to the terrain
User-friendly central foot pedal brake system
Large detachable eco-leather shopping basket with zips
Compact easy action collapse
Folds with seat unit attached in both front and rear facing modes
Fits the carrycot, pushchair seat unit and Junama car seat
Can accommodate other car seat brands with our Junama adaptors
Carrycot
Suitable from birth to approx. 6 months
Unique diamond shape design
One-handed integral unplug system
Elegant built in eco-leather carry handle
Adjustable backrest allowing natural posture of the newborn
Cotton lined carrycot 
Easy to remove carrycot liner
Comfortable mattress
Adjustable and extendable hood with sun visor
Hidden ventilation system to reveal mesh panel for airflow in hood
House ventilation system underneath carrycot for flow of fresh air
High quality fabric finish on the carrycot apron and hood 
UV50+ fabric resistant to UV radiation and discolouration
Reflective material for visibility in all conditions
Waterproof material
Fold up see-through panel protecting against weather conditions i.e. wind and rain
Pushchair seat unit
Suitable from birth to 15 kg (approx. 3 years, do not exceed 22 kg)
Unit can be affixed either parent or world facing
4 recline positions (including flat)
Adjustable footrest
5-point safety harness
Detachable crotch pad
Click mode bumper bar
Adjustable and extendable hood with sun visor
Hidden ventilation system to reveal mesh panel for airflow
High quality fabric finish on the seat unit apron and hood 
UV50+ fabric resistant to UV radiation and discolouration
Reflective material for visibility in all conditions
Waterproof material
Includes padded apron/leg cover
Seat unit folds together with chassis for easy carrying and storage
Chassis 
The aluminium chassis comes with superb suspension, large shopping basket and quick release wheels. Engineered with 6 shock breakers which make the pram extra comfortable and smooth. The reliable front suspension release system absorbs shocks from the ground and frontal blows, for example when hitting the curb. The chassis is engineered with a separate adjustable shock absorber, ensuring agile steering on all terrains.
The quick-release wheels have non-puncture PU tyres for stress and maintenance free travel. Effortless manoeuvrability is achieved by the technological refinement of having 360° rotating front wheels with reduced vibrations. The rear wheels feature a user-friendly foot pedal central brake system that is easily executed, ideal for everyday multipurpose use.
The height adjustable handle bar can be adjusted 180° to suit all members of the family and has an eco-leather finish for utmost comfort. The ingenious folding mechanism allows for a compact collapse, the chassis can fold together with the pushchair seat unit attached, protecting the upholstery and ensuring hygiene.
Carrycot 
The iconic carrycot is suitable from birth up to 6 months, 9kgs (approx). The carrycot features a large hood, adjustable backrest, comfortable mattress and cotton lining. Thanks to the unique integral unplug system, you can release the carrycot from the chassis with just one hand. Carrying the carrycot is a breeze with its elegant built in eco-leather carry handle.
The comfortable and extendable hood is made with waterproof and UV50+ fabric, which protects against harmful UV rays and discolouring. The hood is complete with a hidden ventilation system which reveals a mesh panel allowing ample airflow through the carrycot in warmer weather. Additionally, the underside of the carrycot has an adjustable vent to allow air flow. The carrycot has an additional front panel in the booth that folds up to protect against weather conditions such as wind and rain. The panel has a viewing window, so you can see your little one at all times.
Pushchair seat unit
The seat unit is suitable for a child up to 15 kg in weight (approx. 3 years, do not exceed 22 kg). Your little one can either face you or the outside world. The pushchair seat unit is fully made from ultralight polypropylene, which is also one of the most eco-friendly plastic available on the market. Comfort, functionality and safety are guaranteed with a 5-point harness and an eco-leather front bar that opens and closes with ease.
Having 4 back rest positions, adjustable footrest, comfy high quality cotton finishing and a ventilation panel in the hood gives a prefect ride performance for every little voyager. The foot rest can be adjusted in height and extended even with the apron/leg cover on.
24 Months UK Warranty - UK Customer Service 
We deliver to ALL postal areas in the UK; England, Wales, Scotland and Northern Ireland. Please find a list of All Locations we ship to:
UK Mainland 
Scottish Highlands 
Scottish Islands
Scilly Islands 
Isle of Man 
Isle of White 
Northern Ireland 
Please note if an order has different delivery timescales, the fulfillment time for the order will be the oldest timescale.All orders are consolidated into 1 consignment. The customer may however request for the In Stock items to be sent, by paying a delivery charge to split the delivery.

Below shipping times only apply to items dispatched from Precious Little One and exclude our partners delivery timescales. (Exclude Direct Deliveries)

UK Mainland 3-5 days 
FREE Delivery on all orders over £50
If order is Under £50, a delivery charge of £3.75 will be applied
Saturday Service is available for £30.00 (If ordered before 2pm on Friday)
Next day delivery service available on request ( £5.95 )
Scottish Highlands (Next Working Day or 3 Days)
£19.95 Delivery Charge regardless of order value
Scottish Islands (4 Days)
£19.95 Delivery Charge regardless of order value
Northern Ireland (4 Days)
£24.95 Delivery Charge regardless of order value
5-10 Days Delivery - These products are usually IN and OUT of stock, they have usually been reserved in our supplier's warehouse. As soon as your order comes through, a request is made for the order to come to us. Once the Order has arrived it will be dispatched to you on a NEXT Day service. Depending on the brand the lead time could vary from 3, 5 , 7, or 10 Days.
Pre Order - Item is available to purchase from Precious Little One and will be dispatched at a later date. Stock has been reserved, the purchase order has been made. The item is due in stock when stated and will be dispatched as soon as it arrives into our warehouse.
All deliveries will receive an update from our warehouse followed by tracking information provided by either ourselves or, if on direct delivery, from our suppliers and their couriers.
Unfortunately, we do not ship outside the UK. 
If you have not received the entire order as expected, then please contact our customer services on 01977 515404 or send us an email via the contact us page.
Should you have any issues with your item(s) please report these either via the website or to our customer service team enquiries@precious-little-one.com
Please include an image or short video of the issue clearly showing the fault or damage along with confirmation of your order number, full name and delivery address.
Many of our suppliers will also need a batch number or item number so please check for these and include this when you send this through.
Once we have received all this information and a short description of the problem you are having, we will pass this onto our suppliers and raise this under your warranty. They will then advise us on the outcome/solution to the issues you are having.

FREE SHIPPING
Free worldwide shipping and returns - customs and duties taxes included
CUSTOMER SERVICE
We are available from monday to friday to answer your questions.
SECURE PAYMENT
Your payment information is processed securely.
CONTACT US
Need to contact us ? Submit a form at Contact Us