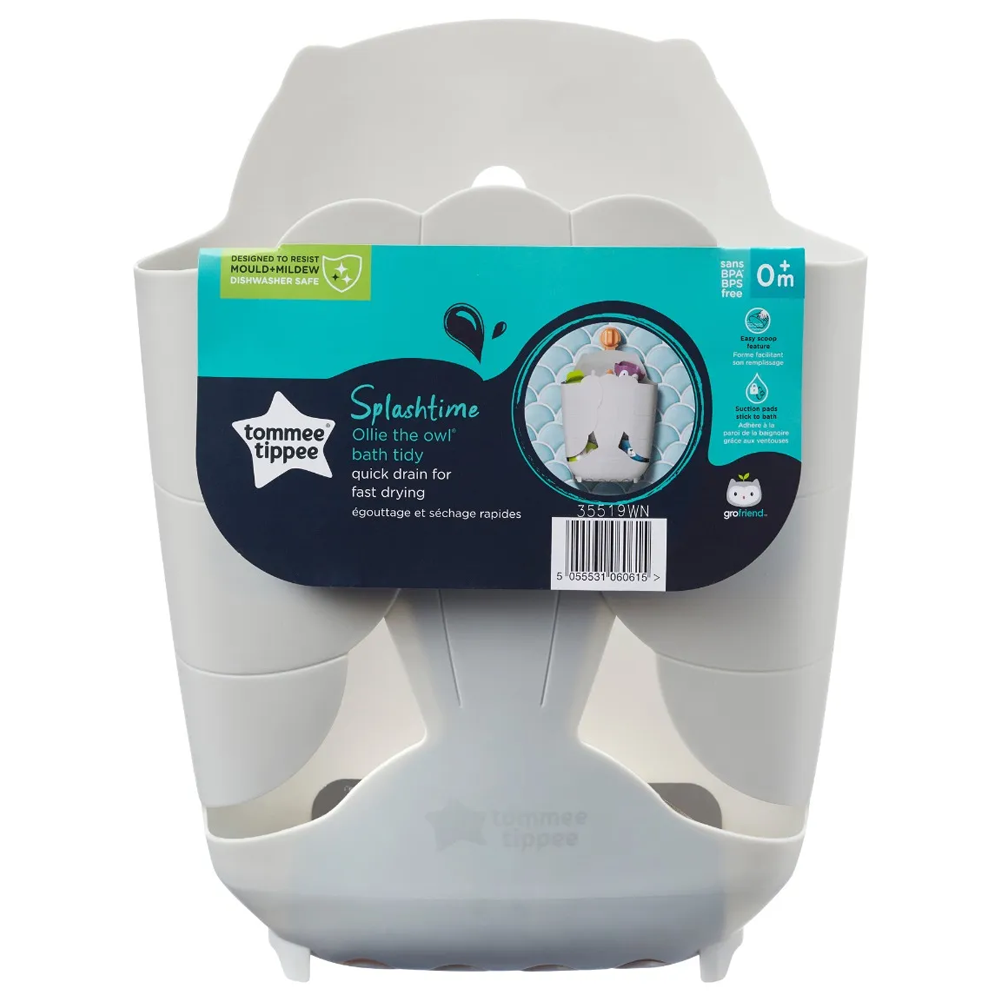 Tommee Tippee Splashtime Ollie The Owl Bath Tidy
Pickup currently unavailable at Unit 10-12 Baby and Childrens Outlet
Tommee Tippee Splashtime Ollie The Owl Bath Tidy
Unit 10-12 Baby and Childrens Outlet
Pickup currently unavailable
Unit 10-12 Baby and Childrens Outlet
Junction 32 Castleford Outlet
Castleford WF10 4FR
United Kingdom
07706777067
If you have children, there is no need to turn the bathroom into a children's playground. Ollie the Owl, offers stylish and practical toy storage to keep your bathroom clean, tidy and organised. 
Hang the organizer in the shower, on the bathtub or attach it to the glass or tiles.
Designed for mold resistance - easy cleaning, can be in the dishwasher
Clutter-free storage room - Arrange the bathroom after putting away all children's toys
Cute and stylish - elegant and practical design means your bathroom still looks tidy
Quick drying - water flows through holes in the base, which means the toys dry quickly when you finish digging
Bathroom without clutter - bath toys should be decorated with this stylish, friendly and versatile container - attach the vacuum cleaners to tiles or glass, hang them in the showers or on the bath....
Capture toys - capture the toys to bathe quickly and easily, then observe how the water flows from the holes in the base
Large size - save all your toys for bathing (up to 35 fl oz. Volume)
Designed for mold resistance - easy cleaning
BPA and BPS free - safe for the baby
We deliver to ALL postal areas in the UK; England, Wales, Scotland and Northern Ireland. Please find a list of All Locations we ship to:
UK Mainland 
Scottish Highlands 
Scottish Islands
Scilly Islands 
Isle of Man 
Isle of White 
Northern Ireland 
Please note if an order has different delivery timescales, the fulfillment time for the order will be the oldest timescale.All orders are consolidated into 1 consignment. The customer may however request for the In Stock items to be sent, by paying a delivery charge to split the delivery.

Below shipping times only apply to items dispatched from Precious Little One and exclude our partners delivery timescales. (Exclude Direct Deliveries)

UK Mainland 3-5 days 
FREE Delivery on all orders over £50
If order is Under £50, a delivery charge of £3.75 will be applied
Saturday Service is available for £30.00 (If ordered before 2pm on Friday)
Next day delivery service available on request ( £5.95 )
Scottish Highlands (Next Working Day or 3 Days)
£19.95 Delivery Charge regardless of order value
Scottish Islands (4 Days)
£19.95 Delivery Charge regardless of order value
Northern Ireland (4 Days)
£24.95 Delivery Charge regardless of order value
5-10 Days Delivery - These products are usually IN and OUT of stock, they have usually been reserved in our supplier's warehouse. As soon as your order comes through, a request is made for the order to come to us. Once the Order has arrived it will be dispatched to you on a NEXT Day service. Depending on the brand the lead time could vary from 3, 5 , 7, or 10 Days.
Pre Order - Item is available to purchase from Precious Little One and will be dispatched at a later date. Stock has been reserved, the purchase order has been made. The item is due in stock when stated and will be dispatched as soon as it arrives into our warehouse.
All deliveries will receive an update from our warehouse followed by tracking information provided by either ourselves or, if on direct delivery, from our suppliers and their couriers.
Unfortunately, we do not ship outside the UK. 
If you have not received the entire order as expected, then please contact our customer services on 01977 515404 or send us an email via the contact us page.
Should you have any issues with your item(s) please report these either via the website or to our customer service team enquiries@precious-little-one.com
Please include an image or short video of the issue clearly showing the fault or damage along with confirmation of your order number, full name and delivery address.
Many of our suppliers will also need a batch number or item number so please check for these and include this when you send this through.
Once we have received all this information and a short description of the problem you are having, we will pass this onto our suppliers and raise this under your warranty. They will then advise us on the outcome/solution to the issues you are having.

FREE SHIPPING
Free worldwide shipping and returns - customs and duties taxes included
CUSTOMER SERVICE
We are available from monday to friday to answer your questions.
SECURE PAYMENT
Your payment information is processed securely.
CONTACT US
Need to contact us ? Submit a form at Contact Us